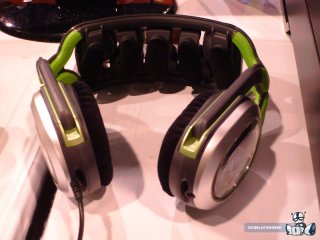 At first glance these Psyko headsets look a bit odd, but upon closer inspection you realize that they are … well, REALLY odd. That is a good thing, and we have been waiting too long for someone to break the mold and innovate damnit! The surround provided by the headset we tested on the show floor was, barring the low volume compared to the ambient hall, really cool. Five speakers mounted in the cross piece of the headset pump the sounds into tubes that carry the sound to the front and back of your ears. This natural flow allows sounds to be correctly processed by your brain and you get really pinpoint directionality. During our demo the sources of the gunfire in the game were relatively easy to locate. Oh, I nearly forgot to mention that the ear covers are vented, so no sweaty-head during those marathon game sessions.
The headset's inventor, and Psyko's "Head Psyko", James Hildebrandt told us that he spent a long time disassembling traditional speakers in an attempt to learn how sound works in our heads. By moving them around and contemplating how the sound reached his ears, he made the breakthroughs present in Psyko's psychoacoustic masterpiece.
All of this auditory bliss is handled by the headset; your computer will not know the difference between this headset and any other 5.1 surround device. Yes, this is currently only available to the PC market, and demand has been steep. There is a bit of a backlog of orders as peoples' orders are outpacing Psyko's manufacturing. XBOX360 models, also with mics, are currently being tested and should be out around midyear.  Once the PC ordering blitz calms down I would personally love to pick up a pair.