"The most important sequel of all time!" blares the cool opening Tronned-up Disney logo and trumpet report. My companions and I (the men of which were Huge TRON Fans) boned up on the original TRON a few days prior, and were primed to accept 127 minutes of eye candy and 3D wonders. I represented the distaff TRON veteran; we also had a first-timer gal who rightfully did not see what the retro-fuss was about. None of us was disappointed in the eye candy, which was ample and lush, and in most other ways (story, dialogue, design) TRON:Legacy is vastly superior to TRON. Obviously, the technological improvements are significant, the acting was all done by real actors, and the writing is mostly tolerable. Legacy is visually sumptuous while retaining a very tight, cold grip on its near-monochrome aesthetic. It tips its gleaming black hat to the design concept of the original, but makes it sexy and a little more practical, a logical extension of the 8-bit universe we visited in 1982. The costume pieces are all fitted with actual lighting elements for a great effect. Jeff Bridges' character has an Obi-Wan robe late in the film that I cannot wait to see some Comic Con genius replicate. TRON: Legacy will get design nominations for sure.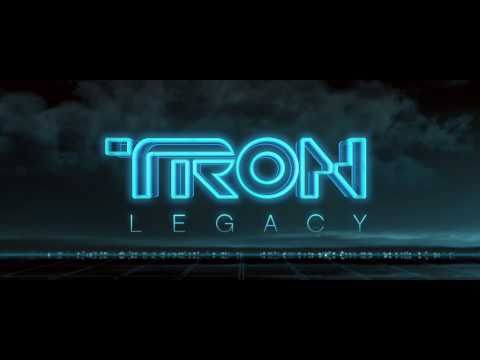 You've got your good guys, your bad guys, all color coded for your easy discernment, and a mysterious figure who might as well have a "Hello My Name Is…" glow badge on. We have crusty Dude Jeff Bridges and uncanny valley-dwelling young Jeff Bridges, apparently a digital packet of an illegal download of Polar Express. Considering Avatar's mouth cameras are now like, two years old, and last I heard Disney wasn't at the brink of bankruptcy, the fact that Clu (a.k.a. young Bridges) still looks like a horrible creepy mannequin is annoying. Both the Bridges generate most of the wince-worthy dialogue, though his commitment to it is admirable. We endure a dangerously embarrassing (though normally fantastic) Michael Sheen, perhaps unaccustomed to playing a character with an id, albeit a digital one. We have Handsome Hero, Peter Pan Playboy Garrett Hedlund playing Sam Flynn, son of the missing Bridges, and a bunch of silly but visually stunning action sequences. And then there's Quorra (Olivia Wilde), the token Beautiful Girl whose function appears to be more to reproduce the iconic 1982 poster pose than serve any specific purpose, even when her purpose is actually revealed.
"Just hit control-Z!" we chirped, as our leads whizzed around a high-tech world forced to obey the goofy rules of its early 1980s creator. Daft Punk's score is appropriately techno and bass-heavy (and used in a funny way in a key scene involving Sheen) and adrenaline-pumping, but cannot compete with Trent Reznor's Social Network score. James Frain plays Jarvis, the bald, creepy flunky of Clu, and inspired my companion's best jibe: "Does digital scenery taste better than real scenery?" If we've learned anything from the blockbusters that have been primarily shot in giant green warehouses, it's that a lack of environment breeds a sort of overcompensation on the part of the actor, as if he or she is back in the ancient Greek skene, hidden behind masks and and dwarfed by distance. Every actor that is able to resist is a hero on the screen. The first TRON had the advantage of not many audience members understanding how computers work; TRON: Legacy presumes a certain degree of digital literacy on the part of its audience, but the problems lie in the precedent set by the first: everything that is silly is the fault of not selectively forgetting the goofy science and "electronic world" conventions of the original. Generally speaking, however, TRON: Legacy does execute the good stuff with panache. Storywise, it's clear there are some high stakes, but it's hard to really get worked up about them. I found it a real struggle to care about anything happening on screen, but it was a pleasure to look at the glassine, glowy universe in Disney Digital 3D. This is one of those movies that does justify the fancy glasses. Just not Real D!
"Just do a back-up, you should have done that already." The fact that an in-game genocide is as forgettable as the non-hero combatants is rather odd. And if you put a spare light cycle in your pocket in Act 1, it's inexcusable if you don't use it in Act 2. It's right there IN YOUR POCKET (and where does food come from?). Director Joseph Kosinsky drops in some geek love, like a War Games quotation, a Black Hole poster (he's directing a reboot), and winks at the old film. TRON: Legacy is the movie TRON thought it was being. Perhaps in 28 years we'll view Legacy with the same pained bemusement as I felt the other night, but there's no denying the visual splendor of this movie. The 3D is worth the extra money, but the movie itself is only worth matinee prices (assuming it's your thing).
MPAA Rating: PG
Release date: 12/17/10
Time in minutes: 127
Director: Joseph Kosinski
Studio: Walt Disney Pictures