The wrath of the faithful is dire. And the wrath of the comic faithful is far, far worse. Nothing raises the blood pressure and sends the spittle flying like a divergent interpretation of an origin story, plot-line, or character redesign.
Enter the newly-minted shots of Christopher Nolan's The Dark Knight Rises and Anne Hathaway as Selina Kyle/Catwoman.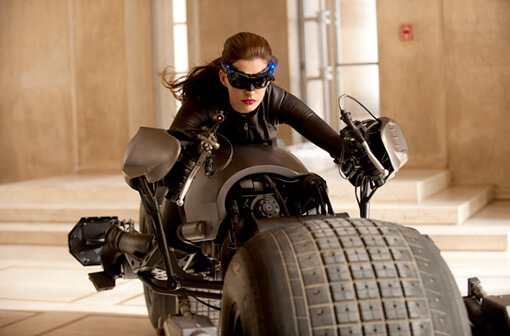 ANGRY GEEK RANT COMMENCE!!!
I want to start off with a little disclaimer here: I like Anne Hathaway. In addition to being drop-dead gorgeous, and terribly talented, she's actually quite likable, gracious, and charming in interviews and blessed with a tendency to select great scripts and solid directors. I'm just not sure about the schewper-schweet night-vision goggles complete with schewper-schweet blue flashlight.
I also love Christopher Nolan's films, from his student projects upward; Memento, Insomnia, The Prestige, and the Batman reboots are all phenomenal films in their own right, and Inception was a terrifyingly gripping tour-de-force that reminded me why I actually pay to go to movie theaters in this day and age.
So these new stills of Anne Hathaway's Selina Kyle do not worry me too much. I have chosen to have faith in the choices made by what has proven to be a great writing, directing, and acting construct, much like I chose to believe that the late pretty-boy Heath Ledger had the chops to stand toe-to-toe with Nicholson's portrayal of the Joker (and in fact completely obliterate it), or that all-around-American-Joe-good-guy Aaron Eckhart could realistically pull off a sadistic MPD basketcase Two-Face. Let's just hope this costume design isn't another Katie Holmes.
I'll leave you with two detail shots of Anne Hathaway's stunt double, detailing the costume in a bit more detail than is available in the shot above.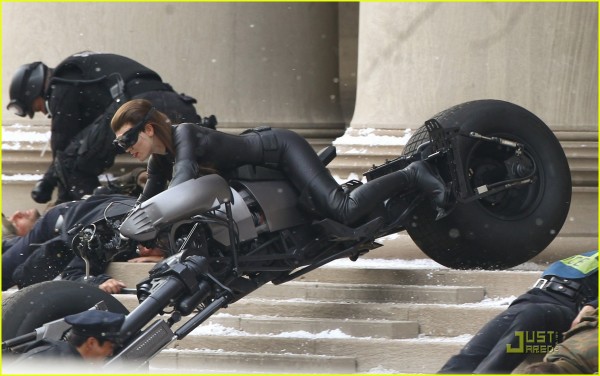 As always, we'd love to hear your feedback, and, given what I know of our reader-base, I am certain you have opinions to express.