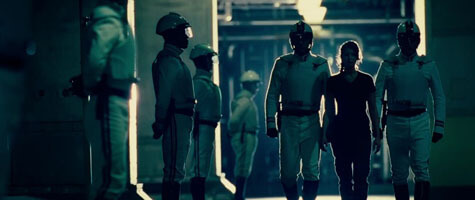 There is a lot to be said about the Young Adult (YA) genre of literary fiction these days.  The rise of the Harry Potter and Twilight series proved that pre-teens and teenagers still love the written word.  So what happens when another YA fiction comes on the scene and gathers the same obsessive and loving attitude as the other well-known series?  Why, you make a movie of course!  So how did Hollywood do in creating a screenplay for a YA book series that has been known to be the antithesis to Twilight?
The book series of the same name authored by Suzanne Collins follows Katniss Everdeen (actress Jennifer Lawrence), an impoverished teenage girl growing up in a post-apocalyptic North America, now known as Panem.  As a punishment for rebellion against an authoritarian dictatorship known as The Capitol, the 12 districts of Panem must select 2 teenagers, one male and one female, each year to compete against the other districts in a fight to the death that is broadcast on TV like a sports game.  This event is known as The Hunger Games.
In order to save her younger sister from being selected at "Reaping" — the ceremony in which the children are selected for the Hunger Games — Katniss volunteers herself.  Her male counterpart for the Games is boy by the name of Peeta Mellark (actor Josh Hutcherson).  They both travel to The Capitol and receive mentorship and training for how the Games are played.  In a strange turn of events, Peeta announces during a televised interview the night before the Games his love for Katniss, to which Katniss does not return the sentiments.  The following morning Katniss and Peeta are placed in the arena and forced to survive as best they can against themselves, the other players — and the arena itself.
There were some progressive moments in the film that I have to give genuine credit towards.  For one, Katniss is portrayed solely as a young teenager.  There is no sexual hype, no unnecessary adult themes.  She was purely a character that young teenage women could associate with.  I think this is incredibly important to have in the young adult genre.  We learn about her relationships with others her age, with her parents and siblings, and with mentors.  About what it means to become an adult and finding an identity, and the mistakes made along the way.  These are things that are important to young adults and it doesn't feel condescending towards them.  I was happy to see this excellent portrayal of a teenage protagonist translated to the movie screen.
Another progressive aspect is the utilization of race and gender.  While the author did not indicate race in her books, the director and casting took a more open approach to the movie.  It's not perfect — in that all but 1 district are of Caucasian descent (which would NOT make sense in a future North America) — but three major characters (meaning, we know their names and they are important to the plot) are of African American decent.
The same can be said of gender.  For one, Katniss is a female protagonist that 1) is not hyper-sexualized, 2) has motivations other than "liking" someone of the opposite gender, 3) is just a general badass that can fend for herself.  There is also other women characters in the movie as well — each with complexities and motivations other than being a sexualized object or being in relation to a male.
This also means that men were often portrayed in less stereotypical roles as well. For example, the first thing I noticed about Peeta was that he was skinny.  He didn't have ripping muscles or a "traditional" male body.  It was a nice distance from the usual "teenage girl" movie I'm used to seeing.  Collins and director Gary Ross do an excellent job of giving male characters more emotions than just "brooding" and "unattached".  Peeta is an emotional character, who genuinely expresses his love and affection.  It portrays a side to men that is often shamed.  And while Katniss's reactions are less than welcoming, it's not because Peeta — as a man — should be ashamed of expressing such feelings.  Both men and women are given a fair shot at being complex and non-stereotyped characters in this movie.
So overall, the movie does an excellent job of moving away from the traditional Hollywood tale of young teenage life.  However, it wouldn't be a movie review if there weren't some gripes about it as well.
My one major concern about the movie is the forced "romance" between the two main characters.  Yes, the one-sided romance between Peeta and Katniss was an integral part of the book's plot but there was just something about it portrayed in the movie that felt forced and unnatural.  It felt like, "Look!  We can be like Twilight, too!  Two teenage heterosexual people, looking for love in all the wrong places!  Look at how important a straight romantic relationship is important to teenagers!  Are you looking, yet?"  Perhaps it was the lack of Katniss's insight from the book that made the romance seem different.  In the book, we know Katniss's motivation and plan for involving herself romantically with Peeta during the Games.  In the movie, you don't get the same sense of what the book wanted you to understand.  SMALL SPOILER HERE: Even in the end of the film, they seem to fly over the most important turning point for Peeta and Katniss's relationship, preferring to go with a simple vague line and a disappointed look on Peeta's face.
The movie did leave me wanting to hear the author's more detailed explanations from Katniss's first-person viewpoint in the book.  This is something very difficult to portray in a movie that is from a strictly third-person viewpoint.  You are left to see the Games from an outsider's perspective, which means you lose a lot of that fear and anticipation that the book provided.
I am also left to wonder if those who didn't read the books felt confused during the movie, as I used a lot of my knowledge of the book to fill in the holes that the movie just couldn't cover.  For example, one of the first scenes between Katniss and her close friend Gale involves them discussing how many times their names were in the lottery for the Games this year.  The author takes some time to explain what that conversation means in the books but there is absolutely no explanation for that scene in the movie.  I suppose it's good that the writers assumed that the audience would read the book, but it still makes me uncomfortable that the audience had to fill in some of the story line themselves.
Overall, Ross did great work by turning a popular book series into a movie.  It was progressive, emotional, and accepted that teenagers were capable of understanding a mature story line that didn't involve gushing over who the characters had crushes on.  However, the movie seemed to fall a little bit into the tired old Hollywood romance cliche with Peeta and Katniss, something I was terribly disappointed to see.  I also find the first-person account of the book was very difficult to portray in the movie and at times left me wishing I could just read the book again instead.
For those that are fans of the book series, the movie does it a justice and I would recommend seeing it if you wanted to.  However, many will find reading the books are more inclusive and detailed.  So much can be lost in translation and I fear that a good deal of the book's sentiments was lost in the time constraints and the third-person viewpoint of the film.  But for a book-to-movie, this has been one of the best portrayals that I've seen.
Images courtesy of Lionsgate Films