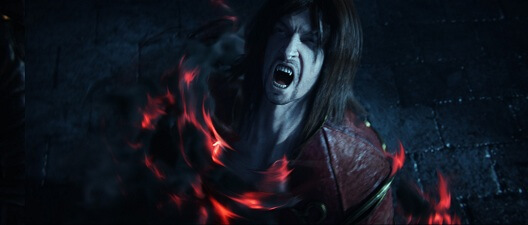 The Dragon has returned, and by the looks of things, he's not happy.
In the buildup to E3, Konami has released the first trailer for the sequel to 2010′s Castlevania: Lords of Shadow, and it's a beauty.
The trailer presents a very different picture of the man we once knew as Gabriel Belmont before he took the name Dracula – a monstrously destructive terror, merciless and cruel in battle. But the official site promises that he'll remain the protagonist, weary of his immortality and seeking to regain lost power to destroy a new threat, while simultaneously being hunted by the Belmont clan – which, in itself, raises all sorts of questions.
(Gabriel is the apparent progenitor of the Belmonts in the LoS continuity, and didn't seem to have had any children. What do we have here?)
Mind you, the trailer doesn't seem to showcase any gameplay – it's just a characteristically gorgeous cinematic, and exciting as those are we've all seen how they can be occasionally deceptive. But if pre-weakening Dracula is capable of these sorts of feats, it's no surprise that he might need a bit of toning down to be a playable protagonist once more. Indications are promising – but here's hoping Mercury Steam won't fall prey to the same sort of darkness-induced-apathy that plagued the God of War series.
For a look at the little additional tidbits presently available, check the official site.