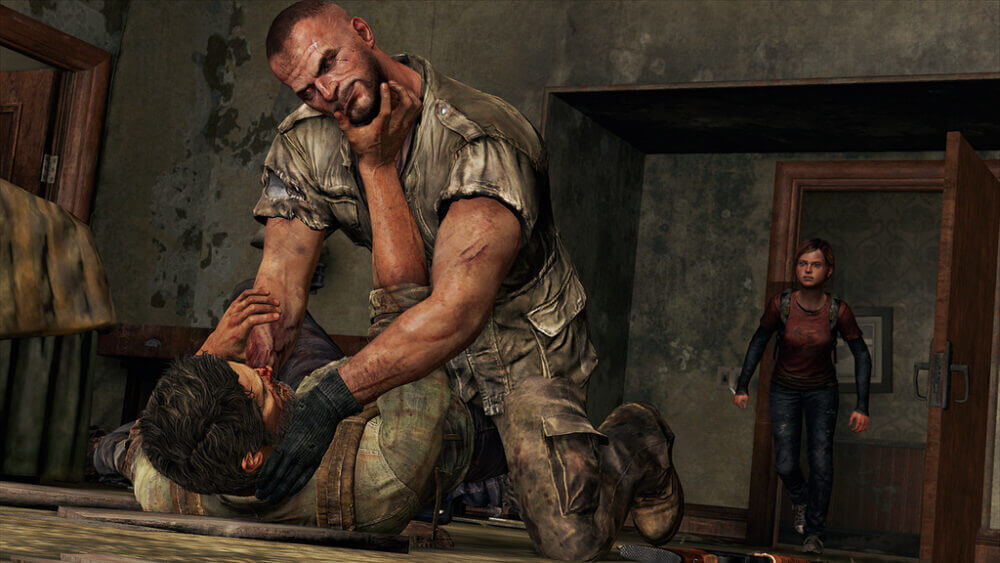 An extended video of gameplay footage is now available for Naughty Dog's upcoming survival-title The Last of Us, showcasing a chillingly hardscrabble post-apocalyptic existence.
Revealed at the Sony pre-E3 press conference, this sequence follows protagonists Joel and Ellie as they skulk through a section of long-abandoned cityscape, now overgrown with vegetation and haunted by a gang of scavengers who prey opportunistically on "tourists" like the two. The contrast between the duo is striking – though both are subdued and focused on survival, Ellie is curious and regularly shocked by her counterpart's ruthless actions.
Gameplay seems driven by survivalistic concerns – no regenerating health, dangerously-armed enemies wielding a variety of guns and improvised weapons, and the ability to cobble together weapons from scraps such as molotov cocktails. Though players control Joel, Ellie occasionally jumps in to help at crucial intervals – whether this is scripted or a function of Ellie's AI is unclear.
The most eye-catching thing about The Last of Us so far isn't its gameplay design, but the sheer visceral harshness of its hand-to-hand combat. Joel flinches from gunfire and gasps for breath; choking or grappling with an enemy is a brutish spectacle. Any weapon close to hand or dirty tactic seems acceptable; Joel is just as happy grabbing a human shield and using the momentary distraction to blow a hesitating enemy's head off. The quiet, gruff hints of concern Joel expresses in conversations with Ellie vanish abruptly and both player character and enemies snarl and growl at one another in threats and curses as if to mask their own deep-seated terror.
Enemies even plead for mercy and are dressed in much the same way as Joel in drab green-brown, worn clothes; the overall message seems to be one of common desperation rather than heroism contrasted against evil. Rather than the sanitized Hollywood beat-em-up of Naughty Dog's prior Uncharted or the gruesome excesses of Gears of War or Dead Space, combat in The Last of Us is both low-key and nail-bitingly frantic.
Of course, some of these could well be scripted interludes. But watch, and judge for yourself.
More information, screenshots, and videos are available at the official site.