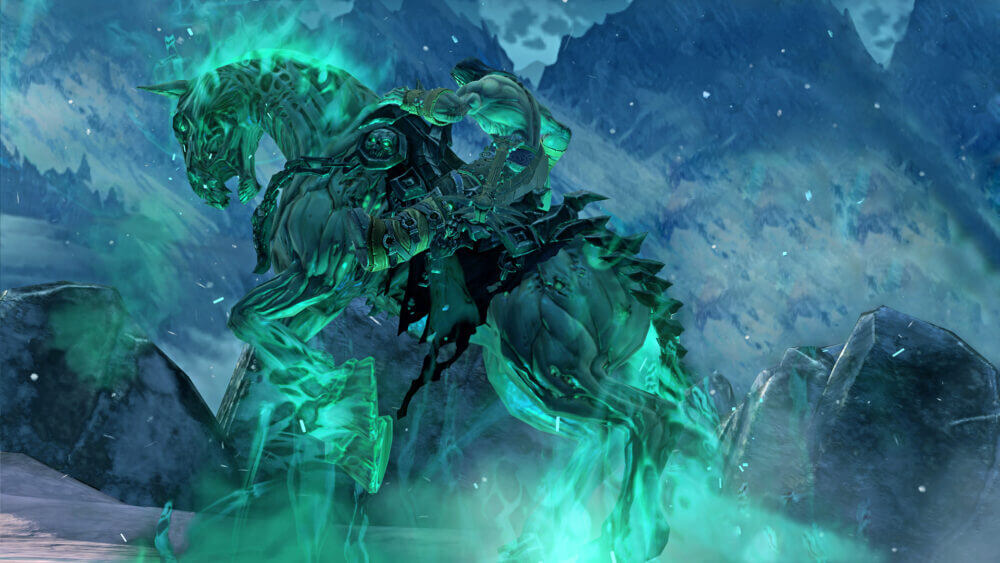 THQ and Vigil Games had a promising hands-on demo of upcoming title Darksiders II available for play on the Comic-Con 2012 exhibition hall floor.
The original Darksiders was the bombastic saga of the Horseman of War's journey through the charred and crumbling ruins of an Earth conquered and swept clear of all human life. An alloy of game mechanics and concepts from many disparate sources, I've come to appreciate it more than my original review might indicate – sure, it was derivative and melodramatic and clearly trying very hard to impress us with its machismo, but it had genuine storytelling promise, mechanical competence, and more than a few genuinely entertaining features.
All the same, Darksiders II's demo was a pleasant surprise.
Starring the masked, gaunt Horseman of Death, Darksiders II deals with his attempt to spare the imprisoned War from the judgment of his superiors for accidentally causing Armageddon. The demo showed off speedier, more agile combat and a new inventory and loot system. It took place in the frigid realm of the Crowfather, the wizened, half-maddened sage Death consults seeking ways to spare his brother from judgment – a crumbling expanse of ancient stone and glacial ice.
Mechanically, the demo is smooth and polished. Death is a formidable presence, wielding a spinning pair of sickles with eerie grace and cold precision. Where War focused upon brute power and deadly economy, Death is a creature of speed – but not, as so commonly occurs with speedster types, of frail strokes. (The comparison between the two is cleverly highlighted by a boss fight against a conjured imitation of the original War, and it's really quite striking.) A new inventory system featuring enemies that drop armor pieces and secondary weapons also promises a much wider range of RPG elements.
The most interesting improvements, however, are aesthetic. Death is a compelling protagonist, a soft-spoken, grimly purposeful entity who neither seeks battle nor shirks from it. The series' trademark bombast has been mated to a compelling cinematic style somewhere between the recent Thor film and Warhammer. Exhibitors promised a much broader range of interaction with new and old characters than the spare cast of Darksiders, a broad array of sidequests, and visits to five distinct realms of widely different styles instead of being confined to Earth.
All told, Darksiders II feels so far much more deserving than its predecessor of the term "epic." Feel free to check the official site for more information, and stay tuned for its release in August 2012.