A lot of people hear the word, "magical girl anime" and head for the hills. To be honest, I can't really blame them. While the magical girl genre is fun and interesting the first time, fifty anime series later, it loses its attraction.
This genre usually entails a girl between the ages of thirteen and fifteen transforming into a magical girl, defeating evil while bouncing around in a tiny mini-skirt.  This type of anime is most often light-hearted and appropriate for viewers of most ages.
Puella Magi Madoka Magica blows this stereotype out of the water by distancing itself from the repetition and simplicity that so often plague its genre.

PLOT
Kaname Madoka is your average 14 year-old girl.  She lives with her mother, father, and brother in a small house and attends school like all girls her age.  One day, Madoka and her friend Miki Sayaka hear a voice calling out to them, begging for their help.
What they encounter is Kyubey, an alien, and two magical girls Mami and Homura.
They are then thrust into a barrier created by a being called a Witch. With their lives in danger, Kyubey encourages Madoka and Sayaka to form a contract with him: if they take on the role of a magical girl, who must fight Witches, they in return may make one wish of their choosing.
Sounds like your basic magical girl anime, right?
Wrong.  Full of references to Goethe's Faust and without any hesitation to portray the more graphic aspects of battle, Puella Magi Madoka Magica quickly becomes a dark and twisted rewriting of the magical genre, shifting it into something complex, deep, and deconstructive.
ARTWORK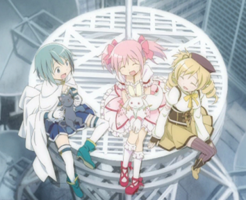 Puella Magi Madoka Magica's artwork is absolutely breathtaking.
Character designs are unusually strong. The costume for each magical girl is both highly detailed and different.  In many magical girl animes, all of the girls wear some variant of the same base costume. While the costumes do each loosely resemble a Japanese schoolgirl uniform, this is where the similarities between the girls' outfits end. In Puella Magi Madoka Magica, each girl has her own unique costume that reflects her character.
The weapons that the girls wield are also specific to each girl's respective power. One character doesn't even have a specific weapon as her power.  Rather, her magic is a defensive magic—the power to stop time, which she uses to set up explosives in the absence of a true weapon.
Another impressive aspect of this anime's artwork is the animation used in the witches' barriers.  Each witch's barrier realm is incredibly surreal, filled with vibrant colors and strange symbolism. Some are deceptively adorable, while others are shockingly dark; all leaving the viewer feeling just as transported to a different dimension as the girls.
The technology shown in the anime is also pretty neat.  I especially like the design of Akemi Homura's room.
Overall, I find the artwork charming.  The girls themselves are well-drawn and their innocence is strongly represented in their character designs.
MUSIC
At risk of sounding terribly cliché, I would not hesitate to call Kajiura Yuki's compositions for Puella Magi Madoka Magica "magical."
Kajiura is infamous for using Kajiurago (a combination of her last name and the Japanese word for language, "go") in her compositions. It is a language heavily based on Latin that Kajiura herself created.  Kajiurago, combined with Kajiura's composition creates music that is chant-like, which greatly enhances the mystical feel that the series so strongly projects. One of the pieces that best displays this is "Sis Puella Magica."
However, Kajiura does not merely compose pieces filled with mystery.  Instead, she perfectly captures the mood of each and every scene.  Whatever is called for, be it music for the girls' daily lives or for a fiercely intense battle, Kajiura creates music that enhances the emotion and theme of each scene. The ending theme, "Magia," written by Kajiura and sung by the amazing musical trio Kalafina, fits perfectly into the magical theme of the anime.  It has a different sound than the rest of the soundtrack, which keeps it from seeming trite.
The opening theme "Connect", sung by ClariS, while not composed by Kajiura, is written as though it is sung from the point of view of one of the girls.  I won't spoil which of the girls it is, but try and figure it out as the series progresses.
The soundtrack for this anime is definitely one worth purchasing and adding to your collection.  If nothing else, give the soundtrack a listen, as it is a great reflection of Yuki Kajiura's composition style.
VOICE-ACTING
Just as the music is very fitting for this series, so too is the voice talent.  In a series as intense and emotional as Puella Magi Madoka Magica, it is critical to use voices that both fit the characters and accurately portray their feelings.  I was not once dissatisfied with the actors and actresses chosen to play each character in the series.
Yuki Aoi, voice actress for Kaname Madoka, does a fantastic job portraying Madoka's sweet and caring personality that is unblemished by the transgressions of the world.  As she speaks for Madoka, the character's purity and innocence really come through.
Saito Chiwa plays Akemi Homura, a seemingly cold and distant character.  The often monotone quality to her voice really emphasizes Homura's personality and makes her later character development all the more surprising.
Kyoko Sakura's voice actress Nonaka Ai brings Sakura Kyoko's tomboyish and undeniably cool character to life.  Her voice is not nearly as soft and tender as Madoka's, and it really fits the character.
Other voice talents such as Kato Emiri (Kyubey) and Kitamura Eri (Sayaka Miki) also play major roles in this series and each nails his or her role with finesse.
Because I watched the series in Japanese with English subtitles, I cannot really comment on the English dub.  I did, however, find the English voices shown in the trailer quite promising.
FINAL THOUGHTS
Even if you normally cringe at the thought of a magical girl anime, do not allow a mere name to prevent you from enjoying an innovative and deep series.
I would recommend watching this series at a time when you can devote a lot of time to it and you can give it the focus it so richly deserves.  If you multi-task while watching this series, you'll be sure to miss some of the more subtle elements that make it so detailed and complex.
I would also recommend familiarizing yourself with the basic plot of Goethe's Faust so that you can fully appreciate the many allusions made to it throughout the series.  Doing so will greatly increase your understanding of Puella Magi Madoka Magica and you'll find the series much more intriguing.
Puella Magi Madoka Magica completely took me by surprise.  It's a fantastic series that you won't want to miss.