After a  very well-planned and lengthy ARG (dating back to 2010!), Valve has announced that they are releasing a new co-operative game mode in Team Fortress 2: "Mann vs. Machine", due on August 15th.
Since 2010′s "Engineer Update", Valve has been dropping hints that they were developing a new play mode.  (Check out this YouTube video for a very good summary of the ARG.) It came to a head over the past week with a new update on the TF2 website that led to a picture of a birth certificate of three Mann brothers.  Two we already knew of because they represent the two teams, Redmond Mann and Blutarch Mann — Red and Blu teams, respectively.  However, the third child was Gray Mann and according to the certificate, "absconded with by that scourge of London, the EAGLE."
Redditors hypothesized that this might mean that Gray went to America and began research on creating robots.  (Of course, the released TF2 comic "Blood Brothers" makes it a very literal translation).  They also hypothesize that Senator Gray, mentioned in the Pyromania ARG is the same man.
Today, Valve released the official word on the new game mode entitled "Mann vs. Machine".  A teaser trailer was released, showing Red and Blu teams working together to defeat a huge army of robots.  Check it out below: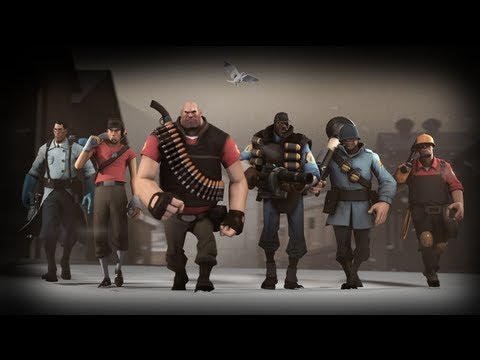 According to the official site, the game mode will be a co-operative game with 6 players working together to defeat a "horde of robots from deploying a bomb in one of Mann Co.'s many strongholds."  Information will be updated daily, right now the information we've received is more details about the robot army.  Built as robotic versions of the playable characters, there are the average robots and then larger and stronger "giant" robots, souped-up versions of the Scout, Heavy and Soldier.  Also, a new map will be available to play called "Mannworks".
The next three days will be full of updates very similar to the Pyromania update a little over a month ago.