This morning, Nintendo officially announced its brand-new Nintendo 2DS, scheduled for a pre-holiday season release. In addition, they also announced some changes to the Wii U and its pricing.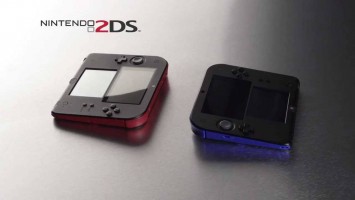 Think of the 2DS as the 3DS, without the 3D. Starting October 12th, it will be sold for $129.99, and will be compatible with all currently released 3DS games.
Nintendo fans might also want to take note that this is the same day as the release of Pokemon X and Y. Anyone else smell a bundle coming up?
Speaking of bundles, Nintendo also announced a new Wii U bundle coming out soon to celebrate the release of Legend of Zelda: Windwaker HD. The Wii U will be sold alongside a limited edition featuring the game. From the Nintendo press release:
The bundle includes a black Deluxe Wii U console; a GamePad controller adorned with gold lettering, a gold Hyrule crest and gold symbols from the game; a download code for the digital version of Hyrule Historia, a book that details the chronology, history and artwork of The Legend of Zelda series; and a code that can be used to download The Legend of Zelda: The Wind Waker HD from the Nintendo eShop immediately at no additional cost.
Both the limited edition Zelda Wii U and the Deluxe Wii U will be sold at $299.99, starting on September 20th, a $50 markdown from the original release price. According to USA Today, Nintendo will cease the production of the non-Deluxe version of the Wii U.
Legend of Zelda: Windwaker HD will be released physically on October 4th.