Good news for Star Wars fans: Lucasfilm has posted our first look at the cast of the upcoming Episode VII. From the post on the official site:
The Star Wars team is thrilled to announce the cast of Star Wars: Episode VII.

Actors John Boyega, Daisy Ridley, Adam Driver, Oscar Isaac, Andy Serkis, Domhnall Gleeson, and Max von Sydow will join the original stars of the saga, Harrison Ford, Carrie Fisher, Mark Hamill, Anthony Daniels, Peter Mayhew, and Kenny Baker in the new film.

Director J.J. Abrams says, "We are so excited to finally share the case of Star Wars: Episode VII. It is both thrilling and surreal to watch the beloved original cast and these brilliant new performers come together to bring this world to life, once again. We start shooting in a couple of weeks, and everyone is doing their best to make the fans proud."

Star Wars: Episode VII is being directed by J.J. Abrams from a screenplay by Lawrence Kasdan and Abrams. Kathleen Kennedy, J.J. Abrams, and Bryan Burk are producing, and John Williams returns as the composer. The movie opens worldwide on December 18, 2015.
The website also posted a photo of the cast doing a read-through of the script.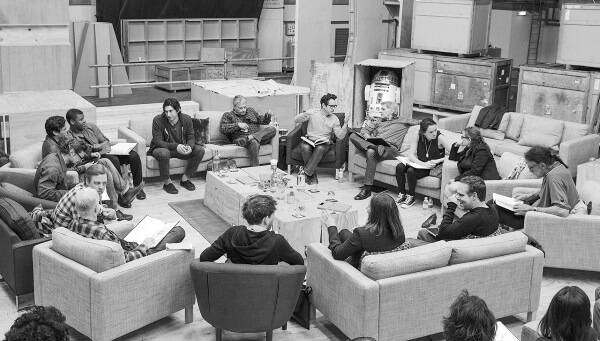 This is a heartening announcement. The confirmed return of the original cast is an exciting development, as is the addition of Andy Serkis (who provided the voice and motion capture for Gollum in Peter Jackson's Lord of the Rings trilogy) and veteran actor Max von Sydow (who, in addition to his work on films by masters such as Ingmar Bergman, has branched out into voice acting for video games such as The Elder Scrolls V: Skyrim). It is also good to see the participation of iconic series composer John Williams. Screenwriter Lawrence Kasdan co-wrote The Empire Strikes Back and Return of the Jedi
Abrams and company have obviously approached this project with the respect it deserves. Fans disappointed by the prequels must surely be feeling a new hope. Is it 2015 yet?