It has been 13 years since we first went on a life or death journey with Marlin and Dory as they searched for the missing clown fish, Nemo, in 2003's Finding Nemo. It's arguably one of the best Disney/Pixar films. So it should come as no surprise that Finding Dory is just as good, if not better, than its predecessor. What could have been a cash grab sequel with no value ends up being a movie about self-discovery, family and love.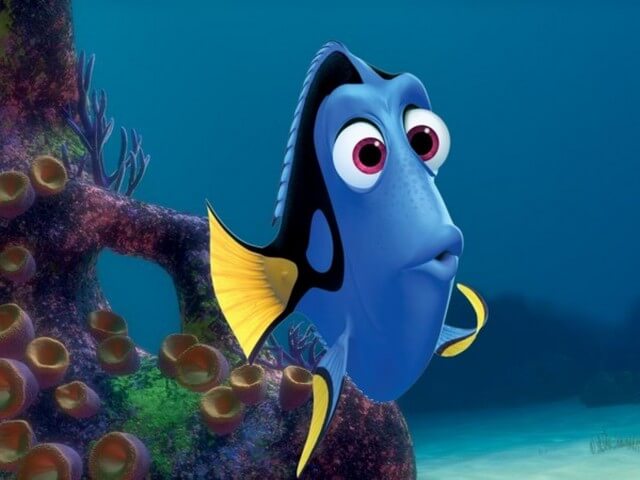 We find it's been one year since the events of Finding Nemo, and Marlin, Dory and Nemo have found themselves living a pretty good sea life. But Dory misses something, and due to her short-term-memory issues she can't seem to remember what it is she's missing. After recalling a childhood memory about Morro Bay, California where she lived with her mother and father many years ago, she is now on her own life and death journey to find her family, with Marlin and Nemo in tow. After being unexpectedly separated from Marlin and Nemo, Dory finds herself alone inside the Monterey Marine Life Institute, where she meets Bailey, a white beluga whale; Destiny, a whale shark with bad vision; and Hank, a grouchy octopus, who becomes her guide as she navigates the institute searching for her family.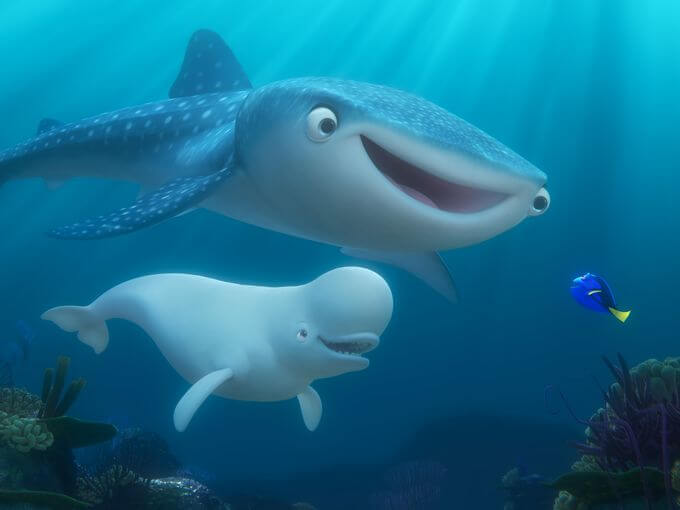 By far it's one of the best movies of 2016 and frankly one of the best movies out of the Disney/Pixar catalog. It's beautiful with a wonderful message for all: love. The movie is bursting with it, not only with the old characters but also with all the new ones we meet along the way. No matter who, what or where you are, love is the universal language in the movie. From a parent's love to friendship love, the movie shows and explores all vibes and meaning of love. So much in fact, when you leave the theater you're filled with so much love you can barley contain it. So as with most Disney/Pixar flicks, bring all the tissue to cry into. I think Finding Dory might set a record: one minute and thirty seconds in, tears were already there. Damn they're good.
Ellen DeGeneres and Albert Brooks both reprise their roles as Dory and Marlin. Each has such a good take on their characters. You believe them and all their motivations. And it's just nice to spend some more time with characters you love. They work well together and their friendship is one that will go down in film history as one of the best.
Newcomers to the franchise are Kaitlin Olson as Destiny, the whale shark and Ty Burrell as Bailey, a beluga whale. Both are wonderful and each brings a quality to their characters that will make them just as popular as Dory and Marlin. Their scenes are funny and very memorable. These two new characters really added something to the movie, but not as much as Ed O'Neill as Hank the grump octopus. Hank wants nothing more than to be an aquarium octopus. He hates the open water and doesn't want to return to it. And he'll stop at nothing to keep from returning to it, which is made all the funnier by the Monterey Marine Life Institute's main motto: Rescue, Rehabilitate and Release. Hank wants none of it. His friendship with Dory may start out of need, but slowly turns into one of choice as each realizes they're good for one another. Hank was a highlight for a movie with so many highlights.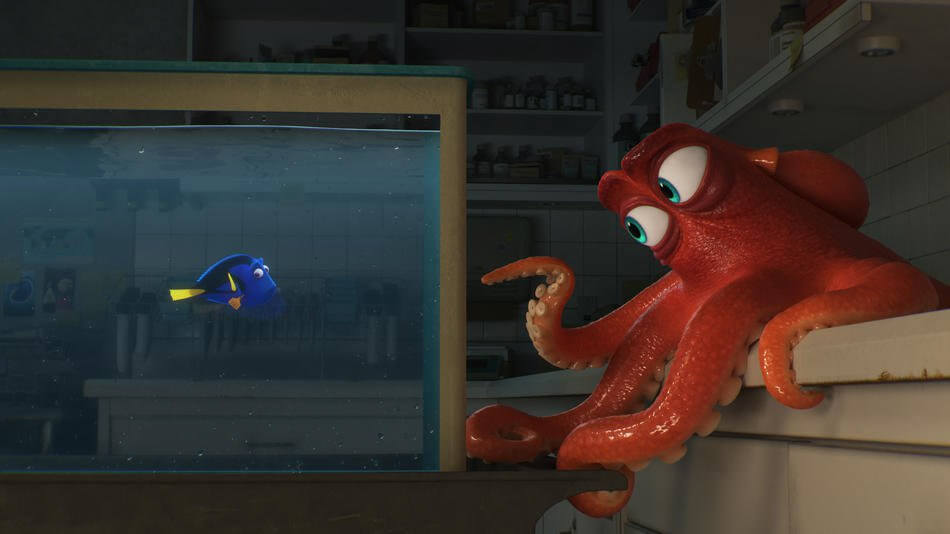 We are introduced to Dory's parents; Diane Keaton as Jenny and Eugene Levy as Charlie. They are wonderful. Each parenting scene we get with them and baby Dory is pure joy. They all work so well as this fish family that you want nothing more than to spend time with them. And hearing Jenny and Charlie discuss how they worry about how Dory will be able to handle being on her own due to her memory issue is heartbreaking, but also wonderful. It showed us a real conversation parents have every day when they worry about their children. It was one of the better scenes in the movie for sure.
The animation just gets better and better with each new Disney/Pixar movie. They manage to make the ocean look so beautiful that you just want to climb though the screen and live there. Each plant, fish, human, bird, etc. looks so real at this point you swear, they are. I wonder what Walt Disney would think if he saw how wonderful and amazing animation has become. I'd like to think it would blow his mind in an astounding way (after he deals with the fact that he's alive again of course.)
Finding Dory is everything you want it to be. It's perfect, a delightful movie full of love and family with that special something that only Disney/Pixar can do.