Happy Halloween! Last day for the October Scary Book Reviews. You know what's a really scary topic? Cannibals!
I remember I was partway through Season One of the TV show Hannibal, and I was already hooked on the charismatic killer and dazzled by the gorgeous food he would serve to his unsuspecting guests.
Some of his gourmet dishes were so intriguing, I did extensive research to find out what they were. Well, sort of extensive. Okay, I think it was exactly one google search ("hannibal episode 10 ham with hoof"), but it took me right to "Feeding Hannibal", a blog by Janice Poon, the food stylist for the show. Setting up beautifully prepared meals for each episode is a complicated job, and Janice's blog is overflowing with recipes, sketches, behind-the-scenes stories, and of course details about what she used to make it look like Hannibal was cooking someone's liver. Or lung. Or arm, complete with hand and fingers.
Best of all, Janice reserved some of the tastiest bits of trivia for her latest project, Feeding Hannibal – A Connoisseur's Cookbook. Two hundred and forty full-color pages with everything you need to make your own Hannibal-themed dishes.
Anybody hungry?
Cooking for Hannibal engaged each and every skill I had acquired in my checkered career as an advertising art director, caterer, florist, author, couturier, painter and sculptor. Yet it was unlike anything I had ever done before.
The best word I can think of to describe the hardback book itself is sumptuous, something that will look fantastic on a collector's shelf. It's nicely hefty, the paper is really thick – just shy of card-stock – and all the photographs of Janice Poon's creations look like something out of a 17th Flemish still life (not an accident; that was one of her many sources of inspiration.) And since cookbook pages get splashed and stained during the cooking process (that's how you know which recipes are are everyone's favorites, after all) it's going to be tough to make myself use it.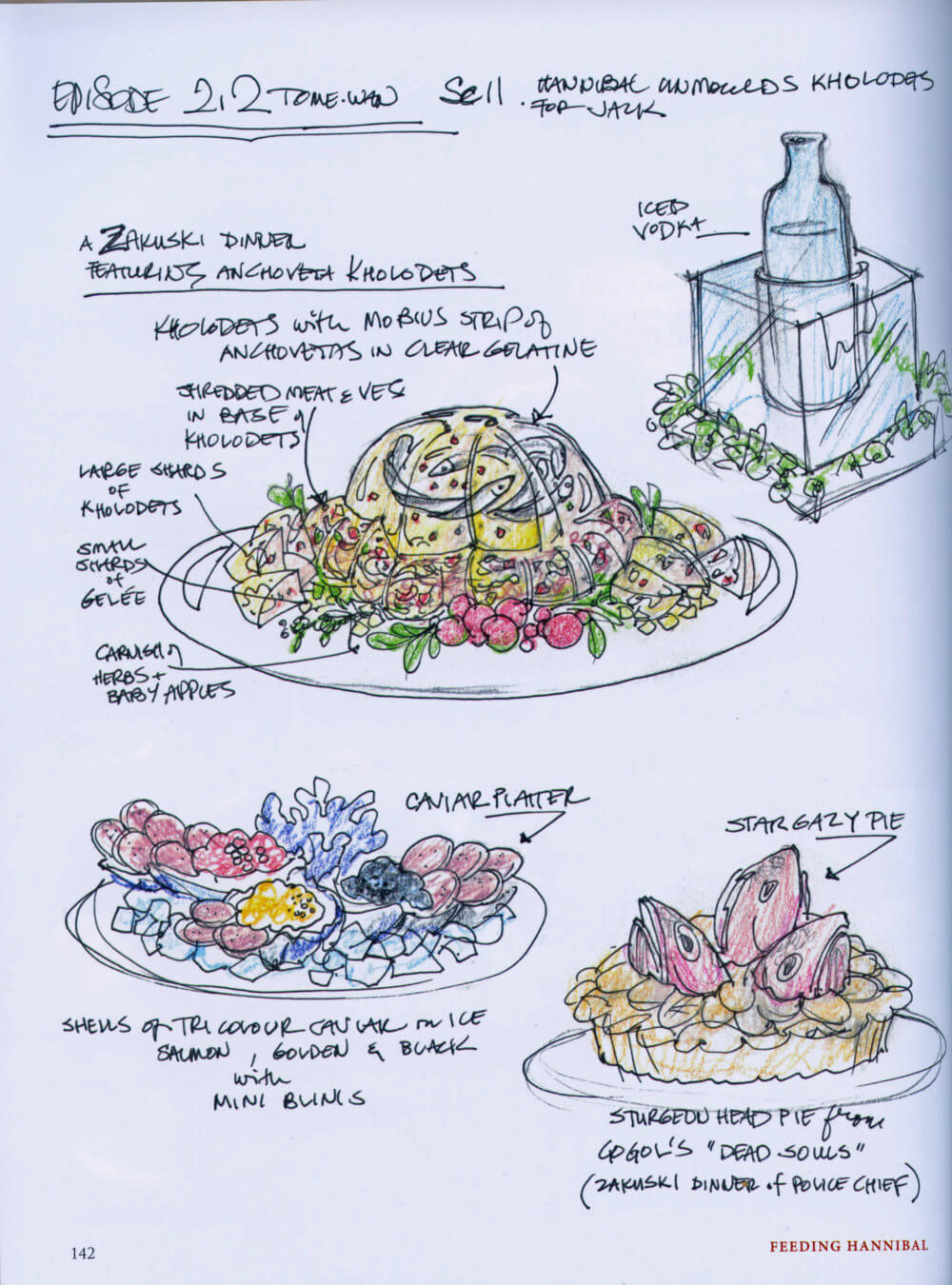 But use it I shall, because the recipes don't just sound delicious, they're carefully written so that even a complete amateur (like me, for instance) will understand all the steps. There's a diagram of some of the specialized cooking equipment you might need, a short glossary of cooking terms, and every exotic item included in the recipes has handling instructions, so you'll know duck liver shouldn't be cooked too long, or that packaged clay from art stores is already sterilized and safe for you to, say, use it to clay-bake a human thigh. Or a whole chicken. Janice admits that chicken would probably be easier to get.
The elegantly presented meals on Hannibal's table didn't just look good; if the actors were going to be eating it then Ms. Poon would create something that would taste amazing as well. In his introduction to the book, Mads Mikkelsen joked about how he and Lawrence Fishburne kept "accidentally" flubbing their lines at one point, meaning they'd have to redo the take and eat more delicious foie gras. And Janice designed every meal to both fit in with the theme of the episode, and match with some part of Hannibal's personality and history.
Some recipes in the book are lifted directly from the show, like the Wagyu Beef Roulades. Some are what Janice imagines the characters eating at other times, like the oatmeal-rolled trout that Molly could have cooked for Will when he came home after a day spent fly-fishing. And some of the recipes are inspired by running themes in the show, such as Broken Teacup Parfait, with an edible teacup made by dipping a balloon in white chocolate.
Even the vegetarians and those otherwise unable to eat what the script called for would still get a tasty faux-version, and Janice includes those recipes as well. There are two different recipes for mock escargot (Eddie Izzard preferred those to actual snails), faux foie gras made from corn meal and duck fat for actors like Gina Torres who feels raising ducks for fois gras involves too much cruelty. There are even fake tongues using a recipe for Lebanese dumplings called Kibbeh, so the actors wouldn't have to chew rubbery tongue meat for take after take.
(Janice digresses for a moment to talk about working on the show Hemlock Grove, making edible hearts filled with Sage Plum Berry Sauce for blood. Oh to be a vampire or a zombie on a show where Janice Poon is making the props.)
"I wouldn't poison you, Tobias. I wouldn't do that to the food," Hannibal tells his paranoid dinner guest. So true – one must respect one's ingredients. As for guests, they are just another card filed under "rude" in his Rolodex.
For anyone worried that there aren't enough tie-ins to the fact that the main character of the TV show was a cannibal, you can relax, because the chapter of the book for Entrees is titled "Having Friends For Dinner", and it includes many items from the show: lungs, liver, heart, Steak and Kidney Pie (I won't give the full name of that last one, in consideration for anyone who doesn't already know which major character buys it midway through Season Two.)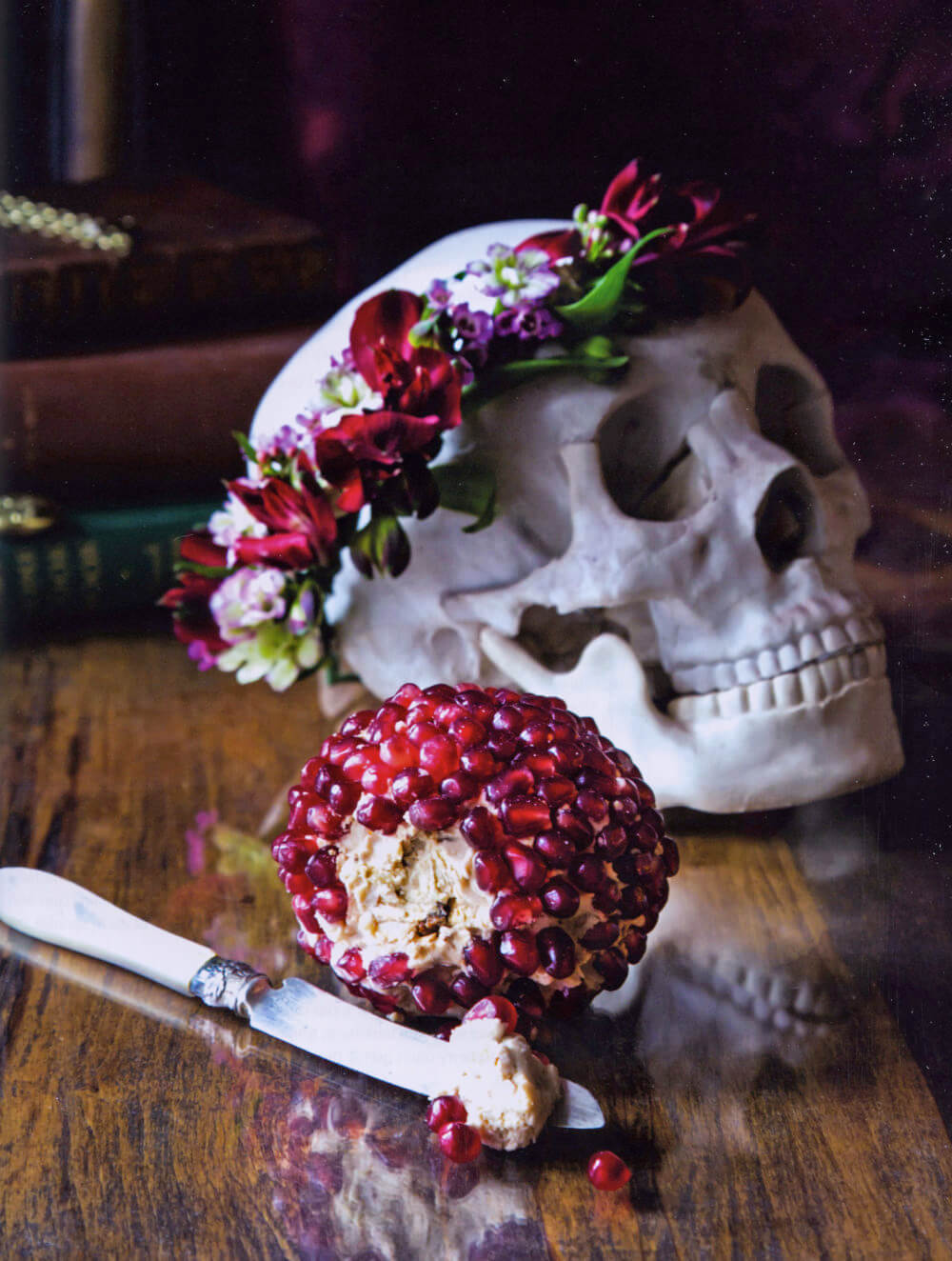 I think even fans of the show who aren't willing to try some of the more exotic dishes will find a lot to love about this book. In addition to detailed instructions on how to make a peacock-inspired display of fruit using melons slices cut into feathers (or "ham" slices arranged in the shape of a wing), there are behind-the-scene photographs and anecdotes (Mads saving the day by just happening to know how to how to do the trick of perfectly cracking an egg by catching it on the edge of a spatula) and lots tidbits about planning for a scene, including some very interesting explanations (there's a very good reason why Hannibal served Sanguinaccio Dolce in a hollowed out orange when he was in jail).
Both cooks and people working on a TV show will deal with some kind of disaster or other, and stories about these are scattered throughout the book. The bread puddings in episode 8 ran out partway through filming. Janice had to come up with a way to fake a fresh sea urchin for a shot since the urchins themselves weren't in season until two weeks after the script called for them. And readers of the Feeding Hannibal blog will know exactly what I'm talking about when I say that Janice devotes an entire page to the epic struggle known as "Norton Grapes".
After all the recipes you get thirty or so pages devoted to some of the odd cooking tips that you'd only need on a show like Hannibal. Edible paper. Noses and ortolans made out of marzipan. Beautiful things you can do with garnishes made from shells or bones or paper. Animal wranglers of every kind you can imagine, and a hilarious story about a time Janice had to say NO to a director.
From start to finish it's just a fantastic book, and now I need to decide which recipe I'm going to try first. Sanguinaccio Dolce looks really good, and it may sound like the start of a horror movie, but surely there's a butcher somewhere in Eastern North Carolina that will sell me some fresh blood for it.