Dead on, you need something savage and green to take to that St. Patrick's Day party. Sorry, that is all the Irish slang I know. I don't understand the need to dye all the foods the color of the holiday, but that doesn't stop me from baking, dyeing and shoving that cake right in my face!
If  you are thinking, "I can't bake." Yes you can and don't worry! I have a simple recipe for Rum Cake that was my Granny's "semi-homemade" recipe for the working woman with no time or is a terrible baker or a lazy ass like myself.
First, you have to make yourself a cocktail. That is the most important part or baking. In my humble opinion.
Since we are making all the green things here's the recipe for Green Devil.
Green Devil
Ingredients
1 1/2 oz. Gin
1 1/2 oz. Crème de Menthe
Splash of Lime Juice
Garnish: Mint Leaves
Instructions
Pour all ingredients into a shaker with ice. Shake and strain into an old-fashioned glass with ice.
Drink and repeat!
Rum Cake
Cake
½ cup chopped walnuts
1 box pineapple cake mix (yellow cake mix can be substituted)
1 box instant vanilla pudding
½ cup oil
½ cup water
4 eggs
1 tsp rum extract
Green food coloring
Glaze
1 cup sugar
1 cup water
1 stick butter
1 tsp rum extract
Green food coloring
Grease bundt pan liberally. Sprinkle chopped walnuts into bottom of bundt pan.
Mix pineapple cake mix, instant vanilla pudding, oil, water, eggs, and rum extract in a large mixing bowl. Add a few drops of green food coloring and mix it in the batter. Continue this until you get to whatever color of alien green you prefer. Beat until smooth. Add batter to bundt pan. Bake at 350 degrees for 40 minutes.
While cake is baking you will need to prepare the glaze. And have another drink!
In a large saucepan, add sugar, water, butter and rum extract and a few drops of green food coloring. Cook 10 minutes. Stir constantly. It will stick if you do not.
Pour glaze over cake. Let it rest for 30 minutes.
After it has rested, you need to turn the cake out. Place the dish you would like to serve it on upside down over the top of the cake pan and flip it over. Remove bundt pan and it is ready to eat!!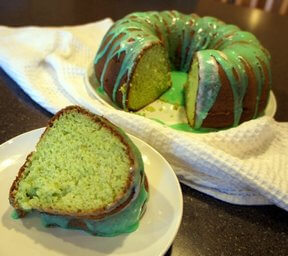 Of course, when it isn't the day that people think it's OK to pinch each other, you can omit the food coloring and make a civilized dessert. It doesn't seem as fun that way.
Happy St. Patrick's Day and stay safe.
As always, you can comment below or find me on Instagram and Twitter and you can find the whole pixelatedgeek.com gang on Instagram or Twitter.