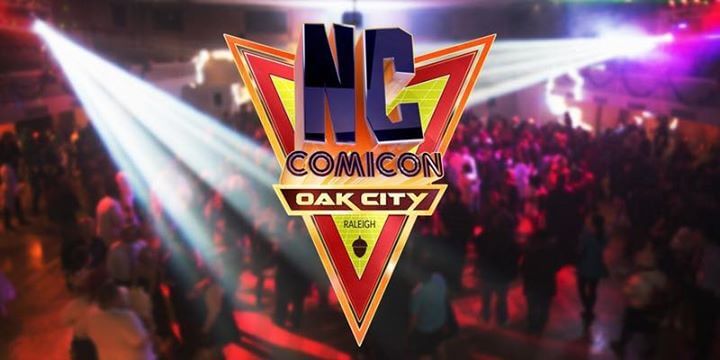 NC Comicon:Oak City starts Saturday, March 18th! Pixelated Geek will be in attendance this year, so this week we're going to provide daily posts about everything you can expect from the convention.
Whether you're looking for cosplay tips, news about what your favorite titles and artists will be up to this year, discussions about diversity in the industry and in the stories themselves, or just want to geek out about B-Movies and toys, you can find something to interest you in the panels at this year's convention. Click the jump for a rundown of the schedule so far.
(Note: All panel times/details are subject to change; for the most up-to-date info, download the official NCC: Oak City 2017 app.)
Saturday, March 18
10:30 AM
306: History of IDW
Join IDW Publisher & CEO Ted Adams, CCO Chris Ryall, and visionary creator Steve Niles as they discuss the unique and fascinating story of IDW and its ascension to the multimedia giant it has become. Full of candid stories, sneak previews, and an open floor for questions this is the only panel to get up close with the movers and shakers of IDW who just may have a few exciting announcements up their sleeves.
11:30 AM
201: The Past, Present, and Future of Females Superheroes
Throughout the history of the superhero genre, there've been many changes in the way female characters are depicted. Join Jazmin Truesdale of Azra Entertainment as she talks with panelists about the status of female superheroes today and what we can expect to see in the future.
202: Let's Get Spooky
Do you feel like a long-lost member of the Addams Family? Can you eat popcorn in a gory movie? Do you just look really good in black? Join us at Spooky Fandom and talk more about the scarier side of fandom!
203: B Movie Magic
Fans know there's a certain magic only found in the grime- and sleaze-filled frames of a great B-movie. Join Dumpster Dive Cinema's Sean Armbruster and B-movie junkie Bo Fader as they sit down with The Toxic Avenger himself Ron Fazio to discuss the genre's uniquely gorey glory.
12:00 PM
306: Inside the Editor's Studio
Shelly Bond is one of the most prolific and groundbreaking editors in comics history. Join the MidCentury Modern Master herself as she talks about the life and role of an editor and her newest project, the Femme Magnifique anthology – with special guest moderator Chris Ryall!
12:30 PM
201: Transformers 2017
Join writer John Barber as he talks his work on IDW's Transformers comics and what fans can expect to see coming from the world of Cybertron over the next year!
202: Upgrade My Cosplay
Learn costume, prop, and makeup tips and techniques to take your cosplay to the next level. This is a judgement-free panel where people of all skill levels are welcome to bring current projects for feedback and discuss future cosplays to learn how to improve their craftsmanship.
203: Podcasting 101
Got the gift of gab and want to host your own podcast? Let the mic masters from Name Redacted Podcast teach you how in this interactive workshop!
1:30 PM
201: My Little Pony
My Little Pony creators Jeremy Whitley, Brenda Hickey, and Tony Fleecs sit down for a discussion about their work in the world of Equestria.
202: Zombie Demonstration Workshop
Rise from the dead! Eat some brains! Come watch an experienced cosplay artist show us all how to transform one lucky audience volunteer into the gruesome undead!
203: Aftershock Comics
Fill up your pull list by joining CEO Joe Pruett for a discussion on the must-read titles and characters of Aftershock Comics.
1:45 PM
306: Black Heroes Matter
Comics have been improving, but the majority of books still have white heroes. Join panelists Darryl "DMC" McDaniels, Afua Richardson, Tabitha Stark and Eddie Newsome for a discussion about the experience of racial diversity in comics and how readers can lead the push for better representation.
2:30 PM
201: Real American Hero
It's been thirty-five years since G.I. Joe #1 hit shelves, and the book remains one of the most iconic titles in comics history. Listen as author, artist, and editor Larry Hama talks about the creation and continuity of one of the longest-running titles in the industry and shares insights and stories from his forty-plus year career.
202: Conquering the Spectrum
Many geeks and gamers are diagnosed with autistic spectrum disorders. Panelists discuss living with the diagnosis and tips for overcoming its challenges. Learn how Autistic Spectrum Disorder can be helpful, not a hindrance!
203: Romance in Comics
Join Jeremy Whitley, Caz Cosplays, and Matt Connor as they talk 'bout love – how much of your own relationship do you put in your work? What are your favorite comic love stories? What do you do when your spouse doesn't like comics – or doesn't like yours? Don't miss this one, love birds!
3:30 PM
306: 30 Days of Night 10th Anniversary Screening
Celebrate a decade of the horror classic with this special screening of 30 Days of Night, followed by a Q&A with writer/creator Steve Niles!
201: Action Movie Fight Choreography
Beat Down Boogie, the YouTube team that brought you Mario Warfare, wants to talk action! They will be discussing action and fight choreography from the viewpoint of the guerilla filmmaker and will cover the basic concepts of choreography, sound design, and camera angles used to create action on a budget.
202: Whitewashed Casting
Comic book movies and TV shows have never been more popular, but many fans excited for a new release sink when they see that yet another white actor will be playing a character traditionally seen as a different race. Let's talk about what that's like and who does it best, and let's work out how to respond when we see this happening again.
203: Diverse Comics for Kids
Racism starts early. How do we raise tolerant, loving children, and how can we use comic books to help us talk about values? This panel will spotlight great examples of diversity in comics for young readers and beyond.
4:30 PM
201: The Art of Mother Panic
Join Mother Panic co-creator and artist Tommy Lee Edwards and artists John Paul Leon and Shawn Crystal as they discuss their current and upcoming runs and approaches to the hit YOUNG ANIMAL character.
203: Geekcraft
Hosted by the founders of Geekcraft Expo, Daniel Way (Deadpool, Wolverine Origins) and Kim Matsuzaki (GeekCraft Expo Market Curator) will be talking about all things where nerd culture and crafts meet, from making to marketing.
5:30 PM
201: Batman / TMNT Adventures
Writer Matt Manning and artist Jon Sommariva have been crafting fan delight in the pages of Batman / TMNT Adventures for a while, but they've never met in person… Until now! Be a part of history as these two creators sit down to discuss their work together for the first time ever!
6:00 PM
306: 30 Days of Night Q&A with Steve Niles
Join the master horror comic writer after a special screening of his movie 30 Days Of Night for an exclusive question-and-answer – it's going to get scary!
Sunday, March 19
11:30 AM
306: Sammie the Comic Book Man
Catch this exclusive screening of a documentary film profiling NC's own Sammie the Comic Book Man, a comic book collector who uses his love of comics to teach school kids about the wonders of reading and creativity.
201: Girls in Gaming
Women in gaming fandoms often face bullying and harassment. This panel of women will talk about their experiences and how every fan can take part in making this culture safe for everyone on the gender spectrum.
202: Spotlight on the 105th
The 105th is one of the largest cosplay organizations in the area. Members create together, inspire each other, and make lifelong friendships. Find out more about this organization at this panel, where members will talk more about what it's like to be in the 105th.
203: Action Lab Presents
The madcaps from Action Lab Entertainment are here to talk your favorite books from the Danger Zone and beyond! Join some of the company's top creators in conversation with Bryan Seaton about all things Action Lab!
12:30 PM
201: Sequential Storytelling
Sequential art presents unique storytelling challenges and potential. Join seasoned sequential artists Tommy Lee Edwards and Mike Perkins for an interactive conversation about telling dynamic stories through comics art.
202: It's Not Your Fault
Abuse and bullying is something that happens often but is not talked about. Our panelists will talk about their pasts and how they have overcome it, and take your questions!
203: Representation Matters
As you can see, many of the panels at the con this year deal directly with questions of diversity. This panel will speak directly about why diversity is so important in popular media and where people can find better representation of a diverse fandom.
1:30 PM
306: Down with the King
Join Darryl "DMC" McDaniels as he talks about his journey from rap icon with the legendary group Run-DMC to the Rock N Roll Hall of Fame and now his own comic company, Darryl Makes Comics.
201: The Unstoppable Jeremy Whitley
With recent projects ranging from creator-owned work like Princeless to My Little Pony, Monsters Unleashed, and The Unstoppable Wasp, local writer Jeremy Whitley is having a wild year. Join in on a question and answer about his journey from comic fan to comic professional!
202: Spotlight on the 501st
Established in 1997, the 501st Legion is an all-volunteer organization formed to promote interest in Star Wars through the building and wearing of quality costumes and to facilitate the use of these costumes for Star Wars-related events as well as contributions to the local community through costumed charity and volunteer work.
203: The Art of Alex Toth
Join John Hitchcock, author of Dear John, a retrospective of his 25 year correspondence with the legendary Alex Toth, and artists JP Leon & Tommy Lee Edwards as they discuss the genius and art of one of the industry's most influential creators.
2:30 PM
201: The Art of Afua Richardson
Afua's art has covered subjects from the mean streets of Top Cow's Genius to Black Panther's World Of Wakanda, and her charisma has made her one of NC Comicon's most popular panelists. Join her as she gets her own spotlight for this question and answer, sure to make you laugh, think, and fall a little in love.
202: Cosplay with Character
Cosplay is a lot of fun, but it can also be used to help people in need. Find out how to get involved charity through cosplay, including what to think about with a children's charity and which charities are looking for a few good cosplayers.
203: Finding God in Comics Part 2
Comics and Graphic Novels can help us ask the big questions about what we believe about life, identity, meaning, justice, and God. Come be a part of our interfaith panel as we continue our conversation from Bull City and discuss together these themes, our identity, and "What makes a hero?"
3:30 PM
306: Love is Love
With House Bill 2 and the tragedy at Pulse still fresh in our minds, Queer representation matters more than ever. Join in a discussion on the state of LGBT characters in mainstream comics – which couples make us happy to be gay? Which companies make us shake our heads? And what's the next step for readers who want Queer books?
201: All Ages Storytelling
Comics aren't just for kids, but that doesn't mean they're only for grown ups, either! Join creators Tommy Lee Edwards and Brenda Hickey for an in-depth discussion on crafting stories that appeal to everyone from the young to the young at heart.
202: Cosplay Diversity
Cosplay is for everyone! Join a diverse group of cosplayers for a discussion of the challenges and strategies of dressing up unique to their diversity.
203: Star Wars Goes to Washington
Join the guys from Beltway Banthas podcast for a discussion on the political themes and messages in Star Wars and what they have to say about today's political landscape.
4:30 PM
201: Science in Comics
For folks who like a little sci in their fi, there's never been a better time to be a fan! Join science aficionado Matt Brady in a conversation about how science works and is represented in today's comics, television, and film.
202: Joy of Geek Live with Dave Dwonch
The Joy Of Geek podcast sits down with comics creator and Action Lab Founder Dave Dwonch for an in-depth interview about his years of experience as a professional and publisher in the independent scene.
203: Transformers Toys
The Transformers are some of the most popular toys of all time, spanning and uniting generations of fans of all ages. Join Autobot aficionado Jermaine Exum for a discussion about everyone's favorite robots in disguise!
Tickets and more info can be found at the NC Comicon: Oak City official site.