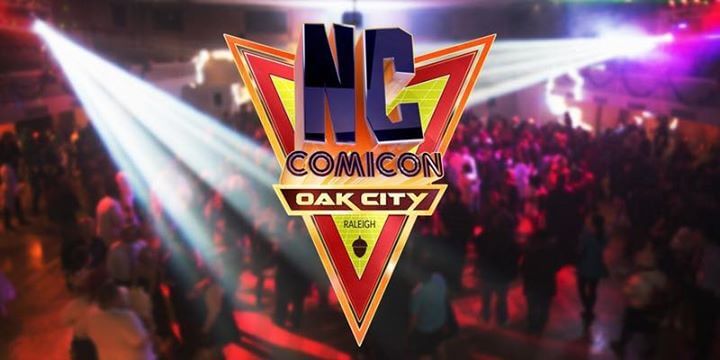 It's not all panels, autographs, and shopping at this year's NC Comicon: Oak City. The convention organizers have also scheduled some extra entertainment for anyone looking for a little more competition, cosplay, and cartoon-inspired dance partying (you heard me) in their weekend. Click the jump for the full rundown of special events at the convention.
Down and Nerdy Charity Arm Wrestling Tournament – Saturday, March 18 @ 1PM
Cosplay City Stage
Women's arm wrestling leagues GRAWL (Greensboro Arm Wrestling League), League of Upper Extremity Wrestling Women of Durham (LUEWWD) and CLAW USA (The Collective of Lady Arm Wrestlers) will join forces to host the mega-event "Down and Nerdy at Oak City," a charity arm-wrestling tournament as part of NC Comicon: Oak City 2017!
"Down and Nerdy at Oak City" will be a superhero, sci-fi and fantasy costumed contest of strength, presented with the fundraising goal of $5000 in order to purchase free comic books for every student attending twenty Title One elementary schools in Greensboro and Durham.
The tournament will start at 1 p.m. on the Cosplay City Stage on the main floor of the convention. Admission is FREE with a weekend pass or Saturday Day Ticket to NC Comicon: Oak City. Wrestlers will be raising money by accepting donations, accepting challenges from the audience, and auctioning artwork by professional artists and illustrators from across the region and beyond. R.S.V.P. on Facebook now!
Guardians of the Gala: Energon Bash – Saturday, March 18 @ 8:30PM
Ballroom C
You are cordially invited to the greatest party in the galaxy as the Guardians of the Gala comes to Oak City for the FIRST TIME EVER! The best party in the convention scene is back and bigger than ever, filling ballroom C of the Raleigh Convention Center with an 80s-cartoon inspired dance party and our greatest light show yet! Show off your cosplay or just come as the best version of yourself as you dance the night away to your favorite songs spun by FiFi Hi-Fi and special guest DJ's. All ages welcome!
The Wild Tarney Show – Sunday, March 19th @ 1:30PM
Cosplay City Stage
The Wild Tarney Show is a "Price is Right" style game show where contestants chosen from the audience compete for fabulous prizes! The ridiculously fun games use only the most obscure numbers to help the contestants win the Ultimate Showdown! Prior knowledge of comics, movies, and other popular culture might help, but probably not, the only way to win… is to PLAY!
Cosplay Showcase Contest – Sunday, March 19 @ 5PM
Cosplay City Stage
You work hard all year on your costumes, so why not show them off? Regardless of experience or skill level, everyone is invited to enter their cosplay in the Showcase Contest on the Cosplay City Stage for a chance to win amazing comic book prizes! Admission is FREE with a weekend pass or Sunday Day Ticket to NC Comicon: Oak City.
For more details about everything NC Comicon: Oak City has to offer, visit the official website here.