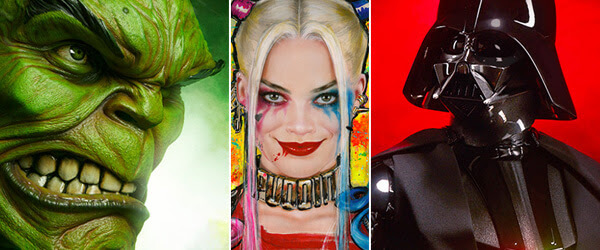 The always-fascinating Sideshow is once again setting up a booth at San Diego Comic-Con! Whether you're interested in a figure from your favorite fandom (I don't know that the 23-inch Loki figure will be there this year. I don't know that it won't be there either), or you want to check out Sideshow's original horror/fantasy The Court of the Dead, there's something for everyone at this year's booth. Click the jump for deets on the booth and the SDCC 2017 page on Sideshow's website.
Celebrating pop-culture with Sideshow!
Once again, Sideshow is the place to be for all your fandoms!
From Star Wars, Marvel, DC Comics and Masters of the Universe, to your favorite horror and fantasy characters – see what Sideshow has to offer at San Diego Comic Con 2017!
For over 20 years, Sideshow has produced hundreds of high-end figures, statues, prop replicas, fine art prints, and collectibles, connecting fans with their favorite characters through their shared love of all things pop culture.
As well as being an artistic studio, creating our own original 2D and 3D art, we are proud distribution partners with other industry giants such as Prime 1, CoolProps and Royal Selangor, as well as being the exclusive US distributor for Hot Toys – making Sideshow a one-stop hub for the world's finest collectibles!
Every year, we pack our booth with hundreds of works of art, giving fans an exclusive first-look at new figures, life-size representations of everyone's favorite characters, and exciting events such as signings with artists and illustrators, cosplayers and more. We'll also have giveaways, contests, games, and more throughout the weekend!
For fans of Sideshow's original horror fantasy property The Court of the Dead (which sprung from the macabre mind of Sideshow's own Creative Director Tom Gilliland), the Court will be rising from the Underworld with a huge immersive environmental display. Fans (affectionately known as "Mourners") who visit during the show will be greeted by a life-size representation of Death to preside over the brave souls who dare approach. With never before seen content, giveaways, contests, and exciting first-looks at upcoming products, fans will get a chance to interact with the Court of the Dead in an entirely new way.
Celebrate popular culture with Sideshow at San Diego Comic-Con this year!
Visit Booth #1929 to find out more!
As we head toward SDCC, Sideshow will be running an "online comic con" unveiling hints at new characters, announcing never-before-seen products, and much more!
Get the Comic Con scoop, and get a few not-so-subtle hints about some incredible new collectibles by visiting Sideshow each day on the run up to SDCC:
https://www.sideshowtoy.com/events/comic-con