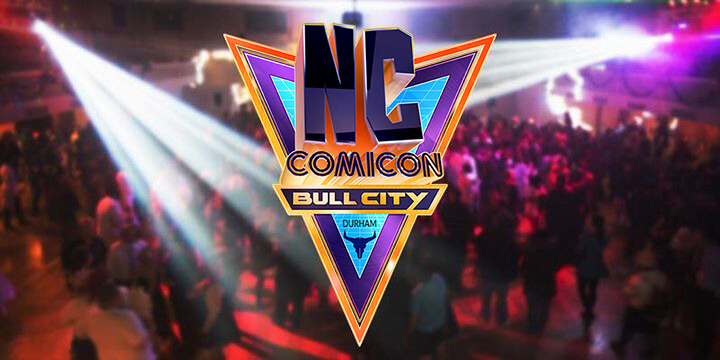 Just three more days until North Carolina Comicon!
NC Comicon: Bull City is Durham, North Carolina's Premier Comicon and it's coming to the Durham Convention Center 10-12th, 2017! New exhibits. New panels. New workshops. New all-encompassing comic book pop culture overload experience! All of this plus a massive fan-favorite Cosplay Contest!
For the next few days Pixelated Geek will be posting regular updates about what you'll be able to see and do at this weekend's convention. Click the jump for a list of artists and vendors who'll be in attendance.
NC Comicon once again welcomes the finest vendors in comic books, toys, and collectibles as well as a plethora of phenomenal comic book creators from the triangle area and around the world.
Artist Alley
Aaron's Adventurous Art
All Things Geeky by 2 Nerds
Artful Sunshine
Bear Butt Comics
Billy Fowler
CCNorris
Chris Wharton
Cliff Bumgardner & Hoyt Silva
Cosplay Hospital
Day of the Doodles
Faith & Fandom
George Farmer
goOnArt_Co
Heroic Effort Crafts
J.M. Dragunas
James Maxey
John Hairston Jr
Liesel's Hat Hutch
Lyle Pollard
Marshall Hinson/Bernie Cooke
Max Dowdle
MichaelBeckwithArt
paprikaSTUDIOS
Ranelynn Graphics
RJ Marchese / The Variant
Robert Jenkins
Ryan Sheffler
Sarlis
Sparkles & Sprites
Super sweets
The Art of Jason Flowers
The Colors of Cosplay
Thirty Seven Stars
TM-J Art
Unique Creations by Amy
William C. Tracy
Aillen Artworks
Art of Josh C. Lyman
Beach City Baubles
Bill McKay
Caliber Comics
Charlie Caine
Chroma Coma
Comixed
Danny Miller / Dee Monster
Dungeonwears
Franky 3D Resin Painting
Giared Terrelli Design
Happy Unicorn Studio
I. R. Harris Books
J.R. Mounts / Scairy Tales Noir
Jellymomoshop
L Jamal Walton
Luke Foster
majaNATION
Marshall Lakes
MentalPablum
MP Mez Studios
Pretty Weird Art
RIVTAK handmade
Rob Retiano
Rumble and Roar Wandmakers
Sarah Harrod
Season of the Geek
Stronge Designs
Sweet Geek
The Bird Fox
The Sweet Geek – treasures and treats
Tidewater Comicon
Uncanny Prints
Vulgardragon's Den
Wolly McNAir
Vendors
Aaron's Adventurous Art
All Things Geeky by 2 Nerds
Artful Sunshine
Bear Butt Comics
Billy Fowler
CCNorris
Chris Wharton
Cliff Bumgardner & Hoyt Silva
Cosplay Hospital
Day of the Doodles
Faith & Fandom
George Farmer
goOnArt_Co
Heroic Effort Crafts
J.M. Dragunas
James Maxey
John Hairston Jr
Liesel's Hat Hutch
Lyle Pollard
Marshall Hinson/Bernie Cooke
Max Dowdle
MichaelBeckwithArt
paprikaSTUDIOS
Ranelynn Graphics
RJ Marchese / The Variant
Robert Jenkins
Ryan Sheffler
Sarlis
Sparkles & Sprites
Super sweets
The Art of Jason Flowers
The Colors of Cosplay
Thirty Seven Stars
TM-J Art
Unique Creations by Amy
William C. Tracy
Aillen Artworks
Art of Josh C. Lyman
Beach City Baubles
Bill McKay
Caliber Comics
Charlie Caine
Chroma Coma
Comixed
Danny Miller / Dee Monster
Dungeonwears
Franky 3D Resin Painting
Giared Terrelli Design
Happy Unicorn Studio
I. R. Harris Books
J.R. Mounts / Scairy Tales Noir
Jellymomoshop
L Jamal Walton
Luke Foster
majaNATION
Marshall Lakes
MentalPablum
MP Mez Studios
Pretty Weird Art
RIVTAK handmade
Rob Retiano
Rumble and Roar Wandmakers
Sarah Harrod
Season of the Geek
Stronge Designs
Sweet Geek
The Bird Fox
The Sweet Geek – treasures and treats
Tidewater Comicon
Uncanny Prints
Vulgardragon's Den
Wolly McNAir
Publishers/Sponsors
Valiant Comics
Art Institute
Carolina Roller Girls
Geek Craft
Geico
Lazic
Matti
The CW