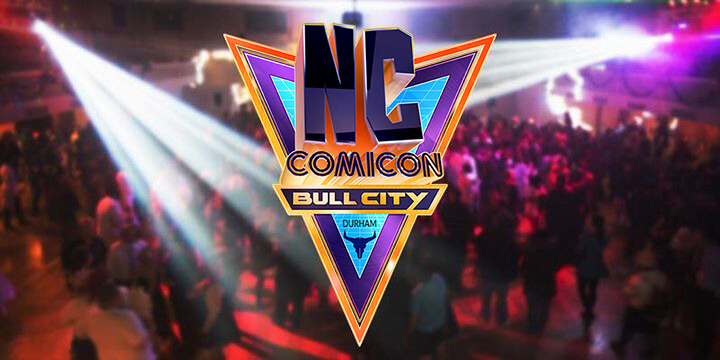 NC Comicon: Bull City starts today! Are you ready? Have you finished making your cosplay? Are you interested in attending a panel on science in comics, digital illustration, cosplay tips and tricks, how to make a successful podcast (I may have to attend that one, for reasons), how faith affects our fandom (and vice-versa) or any of a number of other fascinating discussions moderated by the top creators in the comic book world?
Click the jump for a rundown of the panels at this year's convention.
(Note: All panel times/details are subject to change.)
Friday, November 10
1:00PM
Connie Moses: Chad Bowers, Chris Sims, and Jim Towe
Chad Bowers and Chris Sims have been rising stars with books like X-Men '92, Guardians Of The Galaxy, Darkhawk, and Deadpool: Bad Blood. Jim Towe has joined in the fun as the artist on Chad's Youngblood relaunch. Come sit in on a conversation guaranteed to hit all the right pop culture spots!
2:00 PM
Connie Moses: Military Comics
Many of the stories and characters enjoyed by millions of people today came from the minds and talents of men and women who served their country. From the very beginning, Veterans have played a significant part informing the comic book industry we know today. This Veteran's Day, join us as we discuss the role these Veterans have played and continue to play.
Cinema One: The Science of The Justice League
Join Tamara Robertson (The Feeding Tube, Mythbusters) as she assembles a team of special guests — Matt Brady (Science Teacher & Founder "TheScienceOf.org"), Dr. Kanton Reynolds (Director – Undergraduate Programs, NC State University) — to take on the science behind every- thing from Kryptonian Superpowers to Billionaire Science as they explore the science behind The Justice League. Q&A session to follow.
3:00 PM
Cinema One: Protest Art
Comics and cartoons can entertain, but they can also challenge us to think harder about the political world around us. Join this conversation with influential artists like Keith Knight, Kyle Baker, and Howard Chaykin who are no strangers to controversy!
Connie Moses: Color of Fandom Hosts Strong Female Characters
Media has made many strides in terms of female characterization and there is still more to be done. We'll discuss what it means to be a strong female character, what other elements we'd like to see and some of our favorites in comics, movies and television.
4:00 PM
Cinema One: Black Crown
IDW's Black Crown is a new line of comics meant for readers who aren't afraid to venture into the unknown in their search for the coolest, most happening, downtown you've never heard of. In this neighborhood each storefront corresponds to a different comic series, with stories ranging from action to Kafkaesque horror and everything in between. Come walk the streets with famed editor Shelly Bond and Assassinista co-creator Tini Howard as we tour the town that houses the Black Crown Pub and tackle everyone's favorite subjects: creator owned comics, chaos, and punk rock!
Cosplay Room: Rogue 105th A Star Wars Panel
What happens when Stewie Griffin is K2S0 copiloting for Christopher Walken as Cassian Andor? The vocal engineers from the 105th Squad read the script for Rogue One: A Star Wars Story in voices from all fandoms as well as taking audience suggestions!
5:00 PM
Connie Moses: Video Game Building with Debadeep Sen
Most video games of today make use of game engines, which are software systems that come pre-built with various game mechanics, that makes games development easier and more fun. In this panel, the panelist will provide a live demo of a game level being built (setting up an environment, health and points system, and "leveling up") in Unreal Engine 4, which will provide anybody interested in video game development with the necessary jumpstart.
Cinema One: Michael Rowe and Deedee Magno Hall
From your television to your favorite convention, enjoy exclusive interviews with celebrity guests Michael Rowe (Deadshot in Arrow and The Flash) and Deedee Magno Hall (the voice of Pearl on Steven Universe)!
Saturday, November 11
10:00 AM
Cinema One: Saturday Morning Cartoons
We all love cartoons! Hear from two artists, one vocal (Deedee Magno Hall, Pearl from Steven Universe) and one visual (Sam Ellis, Archer and Adventure Time), about how they approach the series you wake up for!
11:00 AM
Cinema One: Black Heroes Matter The Remix, Volume One
Come on a journey with panel guests like DMC moderated by Eddie #ebonyhero Newsome as we discuss Heroes and Villains of all races, color, and gender, and their impact or lack thereof in comics, movies, and tv.
Cinema Two: Power Up Your Digital Illustration
Digital brush pioneer Kyle T. Webster, will demonstrate pro techniques for working with a tablet in Photoshop. In this two-hour session, he will cover the latest tools that are available to professional artists (digital pencils, inks, halftones, effects), and explain why the newest software and tablets make natural media emulation so enjoyable and so powerful.
Cosplay Room: Meet the 105th
Want to get into cosplay? It's more fun with a friend! Meet the 105th, one of the Triangle's most prominent cosplay groups. Learn more about what we do and how you can join up!
12:00 PM
Cinema One: Rob Liefeld
Co-creator of characters like Deadpool, co-founder of Image Comics, and all-around comic book icon, Rob Liefeld will talk with the Bull City audience about one of the strangest careers out there and what the last 25 years have been like for him. You don't want to miss this one!
Cosplay Room: Paper Mache Demo
A paper mache demo on how paper mache can upgrade a cosplay prop or cosplay with little cost, a great way to upgrade a cosplay prop or without breaking the bank.
1:00 PM
Cinema One: Queer Comics
Queer Comics have been seeing better representation over the last couple of years, with prominent books like Iceman, Kim & Kim, and America. Which ones get it right? Come talk about your favorite Queer characters in comics and find out where to get more!
Cinema Two: Robert Venditti
Superstar writer Robert Venditti comes back to Earth from his time writing space adventures with X-O Manowar and Hal Jordan and the Green Lantern Corps, ands he's ready to talk to us. Find out what he'd do with a Green Lantern ring and where he'd go with his own spaceship!
Connie Moses: Let's Talk Super Hero Science with Tamara Robertson and Friends
It's the old adage of the chicken and the egg – what comes first – the superhero or the science? For generations science has been inspiring superhero technology and powers while comics have been inspiring kids to pursue STEM. Join Tamara Robertson (The Feeding Tube, Mythbusters) and special guests – Jeremy Whitley (Marvel writer "Thor vs Hulk", "Unstoppable Wasp", etc), Matt Brady (Science Teacher & Founder "The- ScienceOf.org"), Dr. Karen Chen (Assistant Professor ISE, NC State University) as they discuss Superhero Science and the effect real world science has on the fictional worlds they're creating. Q&A session to follow.
2:00 PM
Cinema One: Drawing the Dark Knight
Join legendary artists as they talk about their experiences drawing one of the most iconic heroes in comics, Batman!
Cinema Two: Color of Fandom Hosts Diverse Comics For Kids
A child's self esteem is highly influenced by whether or not they see themselves reflected in the stories that they see and hear. Children that are exposed to diverse stories develop a greater sense of empathy for the world that they inhabit. We'll give our recommendations of some diverse comics for your little reader.
Connie Moses: It's Not Your Fault
Cosplay can be a lot of fun, but it can also help people through difficult times. Hear how our panelists have used cosplay and community to get through mental health issues such as trauma and abuse and find out how to get help for yourself or someone you love.
Cosplay Room: Upgrade My Cosplay
Cosplayers with advanced skills in foam, thermoplastics, props, armor, tailoring, makeup, and leatherwork come together to discuss the tips and tricks that help bump your cosplay to the next level. Audience members are encouraged to ask questions on how to upgrade a current or future project.
3:00 PM
Cinema One: Horror Comics
Was Halloween over too soon? Join us as our spooky creators take you back to the best time of year, talking about the comics and movies that give us the creeps and what it's like to make something your audience can't read after dark. Come on down, don't be scared… well, don't be too scared…
Cinema Two: Valiant Presents Ninjak vs. The Valiant Universe — Screening and Q&A
Valiant Entertainment, the most acclaimed publisher in comics today, and Bat in the Sun Productions, the team behind the YouTube sensation Super Power Beat Down, have joined forces for a live-action digital series colliding Ninjak with a gauntlet of Valiant's formidable heroes! Join a star-studded panel of special guests for an exclusive round of footage and Q&A, only at NCC! Exclusive giveaway to follow!
Cosplay Room: Body AirBrush with Cyndi McKnight
Prominent airbrush artist Cyndi McKnight from Cyndi's Faces will be doing a Demo on how airbrushing can seriously bring pop to a cosplay. Need a mechanical arm? Green Skin? Somewhere in between? Need questions answered? Come to the workshop and watch a master at work.
Connie Moses: Fight Choreography
Get ready for a fight! The team at Beat Down Boogie will screen their new short video and then talk about how to make a fight look good – without leaving bruises!
4:00 PM
Cinema One: Music and Comics
Music and comic books have always gone hand-in-hand, especially for their creators, and now the NC Comicon offers a rare and intimate look behind the curtain. Comic book legends including Tommy Lee Edwards, Jim Mahfood, Kyle Baker, and DMC will talk about the influence of music in their work, and the world-renowned musicians Starkiller will discuss how they had a hand in creating works like the score for Marvel's Netflix series Luke Cage, and Ghostface Killah's 12 Reasons to Die. With musical video shorts and one-of-a-kind creative insights, this is panel like no other that you can't afford to miss!
Cinema Two: Freelance
You're a great artist. We all know that. But how do you get your name in the credits of that new issue in someone's hand next Wednesday? Independent creators Jeremy Whitley, Chad Bowers, and Chris Sims will help you figure out how to get yourself to the big companies, and we're also going to learn the life tips they all wish they'd heard when they started out!
5:00 PM
Cosplay Room: Foam: How to Paint, Prime, and Seal
There's now one perfect way that works for every foam project. Whether it's a rigid prop or an armor piece that has to move with you, come learn the best materials, tools, and techniques to finish your foam project and make it last!
Connie Moses: Fanboy Faceoff
Fanboy Faceoff is an interactive debate panel based on the Screen Junkies / CleVVer Movies web series. Participants will have the chance to convince the audience of their character's supremacy for the chance to win prizes. The Panel is hosted by Fanboy Faceoff Screen- writer Hector Miray.
6:00 PM
Connie Moses: Podcasting
Have you ever thought about starting your own podcast but don't know where to begin? Join three experienced podcasters to learn all the essentials of recording, delivering and building an audience. Kevin Schaefer and Rich Lepore from The Joy of Geek team up with Name Redacted host Alex Folmar to give you a crash course in starting your own podcast.
Sunday, November 12
1:00 PM
Cosplay Room: Color of Fandom Hosts Steven Universe Fan Panel
Steven Universe has garnered a fan base that spans people of all ages with fun and quirky characters. Join us as we discuss the humorous elements of the show as well as some of the show's more serious themes.
2:00 PM
Cinema One: The Music of Steven Universe
With a career spanning television shows like The New Mickey Mouse Club and stage shows like Wicked, Deedee Magno Hall has seen – and sung – it all. Now, she's the voice of fan-favorite Pearl on Steven Universe. In this in-depth interview, find out more about this amazing talent and get her unique take on music in kids' programming.
Cinema Two: Beltway Banthas
Star Wars & politics are always colliding. In "Star Wars Goes to Washington" join the guys from the Beltway Banthas podcast in a discussion on the saga's political origins and evolution. They track the use of Star Wars in politics from 1977 to 2017 for politicians, campaigns and political movements.
Cosplay Room: Beginner Foam
Ever see how people work with Foam, EVA or Craft and kinda get mystified on how to get started, how to work it into those shapes? Why isn't it taking paint? Why is it warping, I don't understand youTube… HELP! That's what happening here, beginners step by step from 2 mm sheets to the heavy duty stuff, come watch and ask questions!
Connie Moses: Ask Valiant Anything!
Ever wanted to get inside the head of the people that help produce some of the most
acclaimed comics on the market today? Do you have questions about what's coming next for your favorite Valiant comic book series? Or about how to break into the industry? Who can eat the most donuts in a single sitting? Any and all questions are welcome – because now you can ASK VALIANT ANYTHING! (And we might even drop a spoiler or two!)
3:00 PM
Cinema One: Storytelling with TLE
Join the industry's top creators as they show you how to go from an idea to a finished comic page. This improvisational interactive workshop is a favorite at Bull City year after year!
Cinema Two: Exploring Science Through Science Fiction With Scienstars
Bring the kids and join the producers of this exciting new edutainment series for a special screening of the action packed opening, followed by fun and interactive STEM experiments that use Scienstars and other sci-fi to educate and inspire your future scientists!
Connie Moses: Finding God in Comics, Part 3
Previously in "Finding God in Comics"… we explored how fandom, and the diverse stories we enjoy, intersect with faith. Comics, graphic novels, gaming, and the stories we consume on big and small screens can help us ask the big questions about what we believe about conflict, justice, hope, love, identity, meaning, and God. You are invited to this inter-faith panel to explore with us how these epic stories shape our lives and worldview. All faiths, non-faith and backgrounds are welcome at this panel.
Armory: The Bull City Game Show
You've spent all weekend seeing the best fandom has to offer – now prove you've got what it takes to win at Bull City's annual game show! Test your knowledge and win prizes!
If you want ALL the info about NC Comicon: Bull City RIGHT NOW, check out their amazingly helpful website.