Hercule Poirot is back on the big screen with this newest version of one of one the greatest mystery novels of our time: Murder on the Orient Express, based on Agatha Christie's 1934 novel of the same name. Directed and staring Kenneth Branagh as the world's greatest detective, Poirot, the film is the fourth adaptation of Christie's novel, following 1974 film, a 2001 TV film and a 2010 episode of Agatha Christie's Poirot. What could have been just another remake ends up being a new and fresh adaptation of the old story, adding new themes and elements while staying with the core tone that makes this one of the greatest mysteries ever.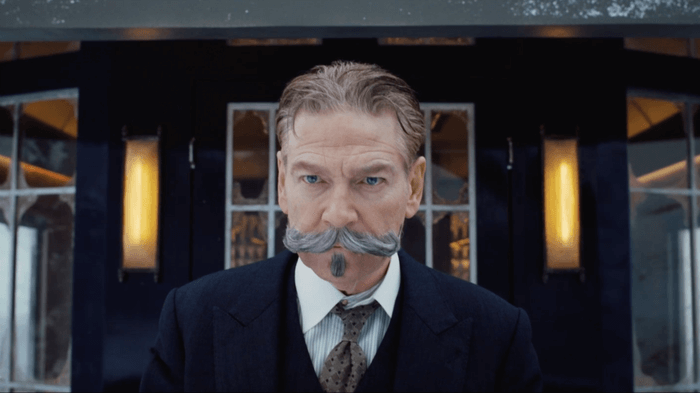 With an epic film like this, just as it was with the original 1974 version, it gathers a huge cast filled with new and older stars. The original had the likes of Sean Connery, Lauren Bacall, Ingrid Bergman (who won an Oscar) and the great Albert Finney in the title role. Here we gather some of the best new and older talents yet again: Michelle Pfeiffer, Dame Judi Dench, Johnny Depp, Josh Gad and Daisy Ridley. Up and comers and amazing acting veterans once again gather on the train of murder, lies and deception.
As with most versions of Poirot's adventures, the movie begins with the audience learning who he is. It's been a hot minute since we've seen a big production of his mysteries so we need to establish who and what he is for a newer generation. And Branagh does it masterfully. This is a new era for the character of Poirot. And one side note to be mentioned for sure is that Branagh's version of Poirot's famous mustache is epic and should have its own credit.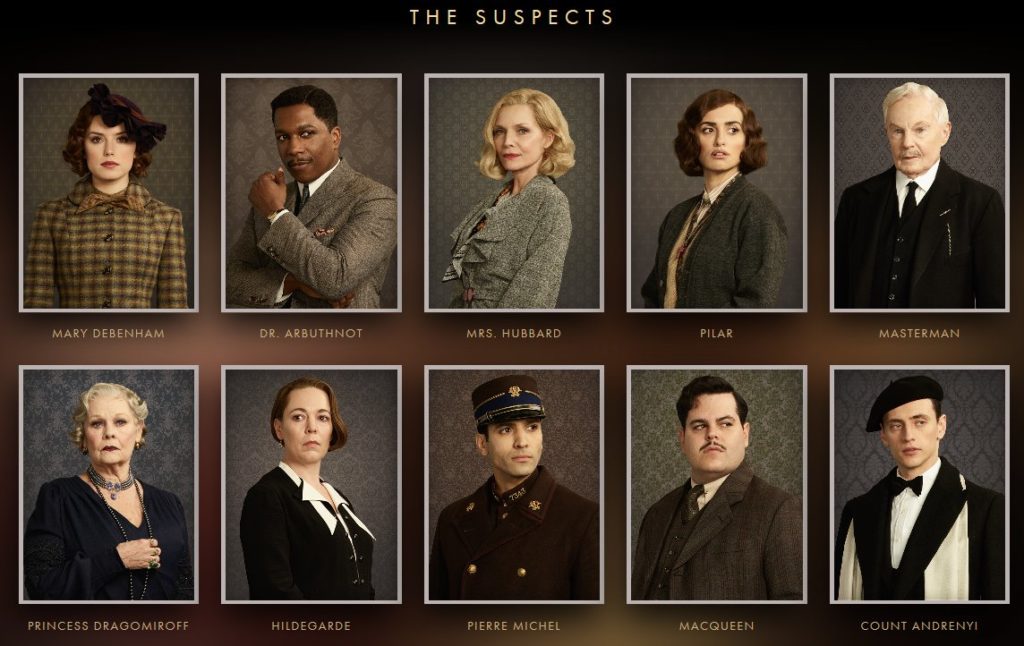 Not to take anything away from the amazing actors who have come before him: Albert Finney, David Suchet, Sir Peter Ustinov and Sir Ian Holm to name a few. Each are excellent in their portrayals of the detective. But here Branagh makes it his own, but still keeping what has been established of the character since 1934. He's bold, strong and more confidant than other versions I've seen. He is exquisite in his portrayal of Poirot down to every tick and nuance the character has. The underrated Branagh here reminds you that there's a reason he's won and been nominated for several awards in his career. And here he gets to show off just how good he is with his acting and directing.
Branagh and Cinematographer Haris Zambarloukos have worked together on many films now and their relationship has been one to watch as it has grown. They collaborated on 2007s Sleuth, 2011s Thor and 2014s Jack Ryan: Shadow Recruit and now Orient Express. The movie is alive with color and tone. The shots are wonderful and each movement breathes life into the camera. Some of the best shots are the sweeping movements up and down or side to side as we get shots of the train in full movement. Even after the train has hit the snow bank and has stopped Zambarloukos still manages to make the movie look interesting even when it's just a train stopped in snow. The movie is shot in 65mm, a dying art now that most things are digital, but here you can see the artistry and beauty in using film versus digital. This is one absolutely breathtaking film.
There is so much acting talent in this movie they practically burst though the screen itself with each scene they're in. This is a massive ensemble cast so each actor gets their small moment to shine. Whether it's just a small scene to move the plot forward or a powerhouse performance to convey anger or sadness, Orient Express really has it all. And having Branagh, a gifted actor in his own right steering the ship, mostly made all the difference.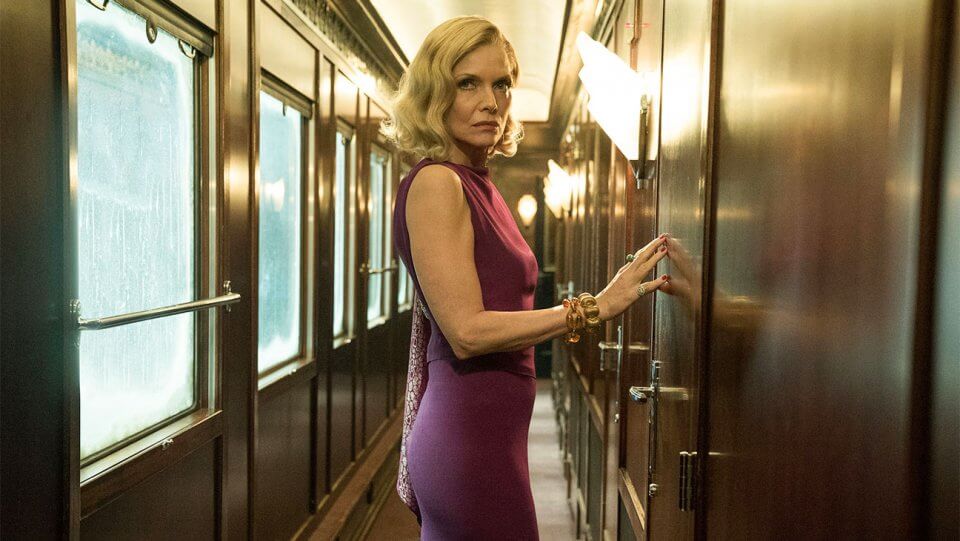 Michelle Pfeiffer is amazing and captivating from the moment she walks on the train. Beautiful and sharp witted, she demands you to watch her every move. Daisy Ridley is equally as interesting to watch. These are two strong women in roles who require you as the viewer to watch every movement. Everything they do is calculating and full of mystery.
Johnny Depp is actually great in this. Not playing into his normal shtick of himself or some strange character, here he is just a gangster with a terrible secret. He quiet and scheming, keeping his performance very low key. Which works incredibly well for the role, as does Judi Dench as Princess Dragomiroff. She has some of the great one-liners in the film and really makes you remember her part. Depp and Dench may have the least to do, but their performances are noteworthy and important to the overall plot.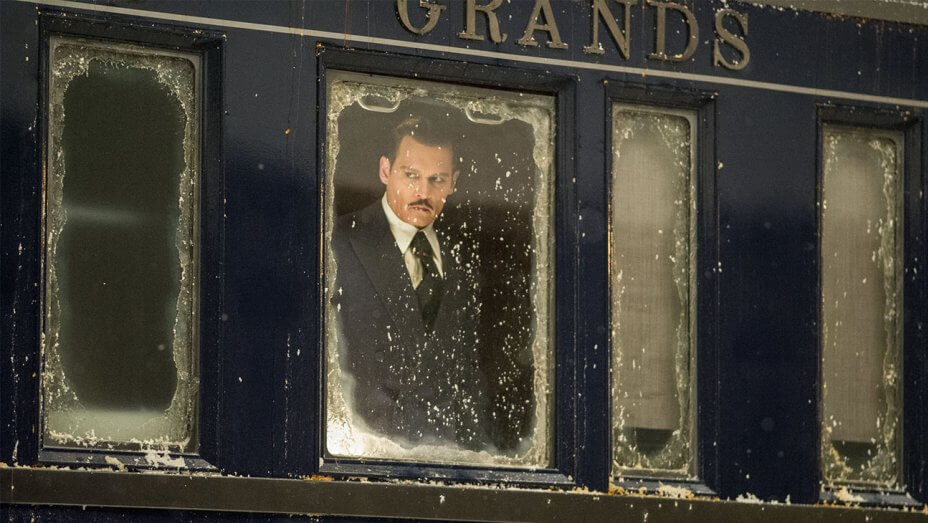 I'll only mention one another actor whom I think is noteworthy and that is Leslie Odom Jr. who plays Dr. Arbuthnot. For this new version of the story they combine the doctor and the Colonel characters into one. Which works slightly better: in the other versions it always felt like each never had much to do except give exposition. But here with combining the two we get an in-depth character who is more important to the story than in previous versions. Odom makes this character fascinating and worth watching.
This is an epic film. From start to finish you can see massive amounts of love went into making it. Clearly Branagh is a fan of the character of Poirot and the original movie. He shines throughout in the movie, just like the amazing cast he has assembled. Between the cast and filmmakers involved there are several Oscars and nominations. This is an acting tour de force. Movies like this just aren't made anymore, which I hope makes this one that much more special. I'd love to have a few more of Branagh versions of Poirot in future projects.