"If anyone reads this when I have passed to the big bad beyond I shall be posthumorously embarrassed. I shall spend my entire afterlife blushing."
It's almost Christmas, so do you need to find a last-minute gift for that hard-to-shop-for friend? It's also been almost a year since we lost Carrie Fisher; don't you think now seems like a good time for more stories of life in- and adjacent-to-Hollywood by the galaxy's most famous princess? And best of all there's a brand-new Star Wars movie out right now, and wouldn't you like to hear more about the filming of the movie that started it all?
If the answer to these questions is yes then you really need to pick up a copy of Carrie Fisher's final book, The Princess Diarist. Inspired by (and including) newly-found journal entries that Fisher made while filming Star Wars: A New Hope, the book is a close look at the mindset of a 19-year-old who's in the middle of her first successful acting gig, while having an affair with a handsome older actor who just happened to be her character's love-interest for the next four decades.
This book marks something of a departure for me, as I usually don't go for audio books. If I've got a long car trip or a boring hour of data-entry then give me music and podcasts, but if it's a book then it's got to be on paper or a computer screen because I have read it if I'm going to enjoy it.
Carrie Fisher's books, however, are best in audio book format, most importantly because Fisher narrates them herself. She doesn't just read aloud, and it's not as if she's really performing them either; she tells these stories with all the warmth and energy of someone getting a few things off her chest, celebrating a life that she knows millions of fans would have loved to experience, and all the while laughing about just how ridiculous that life could be and poking fun at herself in her own sassy, whiskey-voiced style.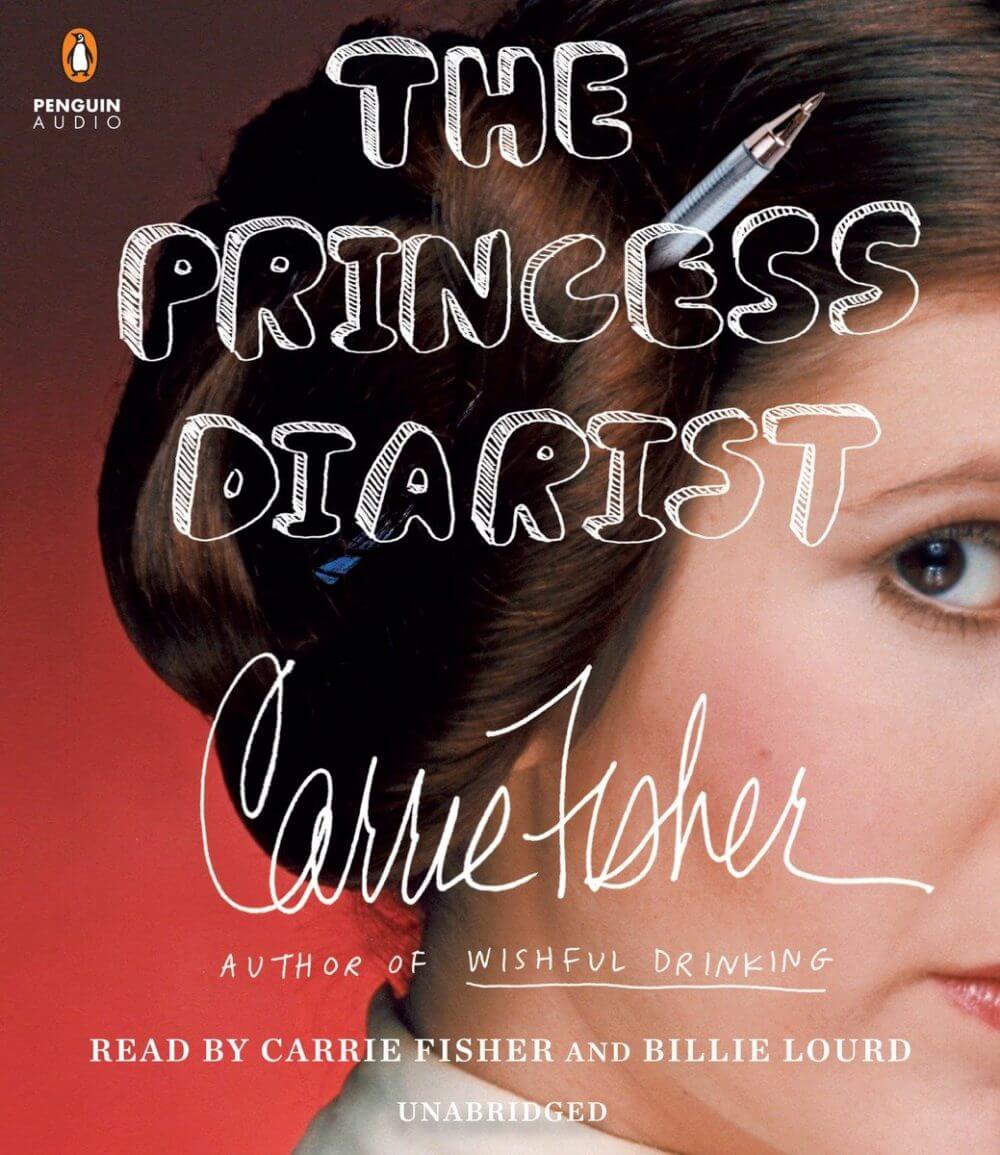 Fisher's previous book Wishful Drinking goes into a lot more detail about what it was like growing up as Hollywood royalty. Here she just touches on a few of the basics: her father Eddie Fisher was a useless cad who torched a successful career with womanizing and substance abuse. Her mother Debbie Reynolds's star was fading right around the time Carrie was old enough to realize that a job in showbiz meant a few years of celebrity and then a lifetime of watching that celebrity drain away. Becoming an actress was the last thing Carrie wanted.
So of course she got a part in the movie Shampoo, participated in a bunch of musical stage productions, went to acting school in London and, after what she remembers as a cringeworthy audition with George Lucas, landed the part of Princess Leia. Fisher comes up with a lot of theories about what made her take this path, but not even she seemed to really understand why she did it, even if she knew just from reading the (never filmed) scenes from her audition that this was going to be something amazing.
…I laughed and dropped the phone and ran out into the front yard and into the street. It was raining. It didn't rain in L.A. It was raining in L.A. and I was Princess Leia. I had never been Princess Leia before and now I would be her forever. I would never not be Princess Leia. I had no idea how profoundly true that was and how long forever was.
Other than a fairly long section about how Princess Leia's "starbuns" hairstyle was chosen, there's not a lot of details about filming Star Wars, just what was going on around the filming. There's also not much, ahem, salacious details about the act of having an affair with Harrison Ford. Carrie is the first to admit that she's famous for oversharing her life, her struggles with mental illness and substance abuse and unsuccessful marriages. But this book doesn't have any gossipy details about where and when and how good anyone was in bed.
What we get here are Fisher's own recollections from forty years ago, and the diary entries (read in the audio book by Carrie Fisher's daughter) of a typical teenager with a very untypical life . Nineteen-year-old Carrie has all of the insecurities that anyone does at that age, but magnified by exposure to Hollywood, making her determined to be seen as somebody. Then she got involved with a man she didn't feel worthy of, who was cheating on his wife by having a purely physical relationship with a teenage girl who happened to be madly in love with him.
And it's really, really hard to blame her. The night he first swept her off her feet sounds like the perfect combination of the most awkward party situation you can imagine, and the kind of daydreams that girls Carrie's age and younger would be having about Han Solo in just another year.
Carrie writes almost obsessively, trying to get things down on paper where they'll have less control over her life. Her self-doubts during this time period come out in her diary entries, in her very lyrical poems, and rambling essays, and some surprisingly insightful comments about how much all of this hurt.
"I'm frightened of the power I have given him over me and of how he will almost certainly abuse it, merely by not being fully aware he has it."
Carrie harbored a lot of guilt and self-loathing over this three-month affair (and the fact that it ended) but she never once asks for pity. Harrison Ford doesn't come across looking his best here, but Carrie doesn't rip into him because she still had fond memories of the relationship (such as it was). And rather than making the diary and the affair the entire story here, she also spends a lot of time examining her life, and about how her life changed, heck, how the world and the entire concept of fandom changed, after one low-budget film made in a few months in 1976.
I would have preferred for Carrie Fisher to not have a book that could be called her last book yet, but if she's going to have a swan song then I'm okay with it being this one.