In a move that we can confidently say no one saw coming, The Elder Scrolls Online, a MMO-RPG set in Bethesda Softworks venerable fan-favorite Elder Scrolls universe, has been confirmed for PlayStation 4 and Xbox ONE.
It has also been confirmed that while PC and Mac users will be on the same server set, the PS4 and Xbox ONE servers will be separated from the PC/Mac servers as well as each other. Given the degree to which the console debate has escalated, this is probably good news on several levels. Additionally, Bethesda has announced that the PlayStation 4 will boast the first beta access for The Elder Scrolls Online.
As The Elder Scrolls Online is Bethesda's main point of focus at this year's E3, Bethesda has released a slew of new media for TES: Online. The following features the voice-over talents of Michael Gambon (Harry Potter, Gosford Park, The King's Speech), as well as some juicy snippets of game-play. The first-person viewpoint is something of a rarity in MMOs, but the Action-RPG system present in The Elder Scrolls Online seems to favor it. Franchise alumni will also recognize many of the iconic Tamrielic foes such as the draegloth and hagraven, as well as brief shots of locales like Morrowind and Elsweyr.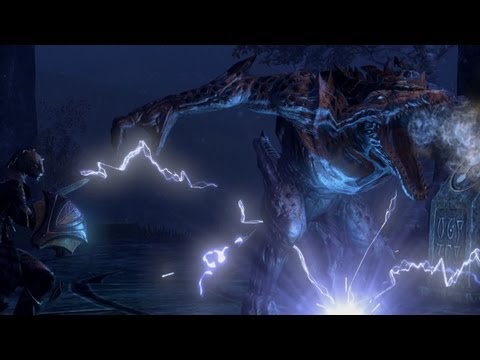 The Elder Scrolls Online will launch Spring of 2014 on PC/Mac, PlayStation 4, and Xbox ONE.