I wasn't planning on picking up my Comic-Con press badge until Friday morning, since I work until 8pm most nights. This means I'd had no plans on attending the Wednesday Preview Night.
But last night I got word that I'd be helping out with an interview Friday morning. As in first thing Friday morning. As in 8:30am, which is also the earliest you can possibly pick up a badge. As in: "Oh. I think that means I need to get my butt downtown in a hurry because by Friday morning it'll be too late."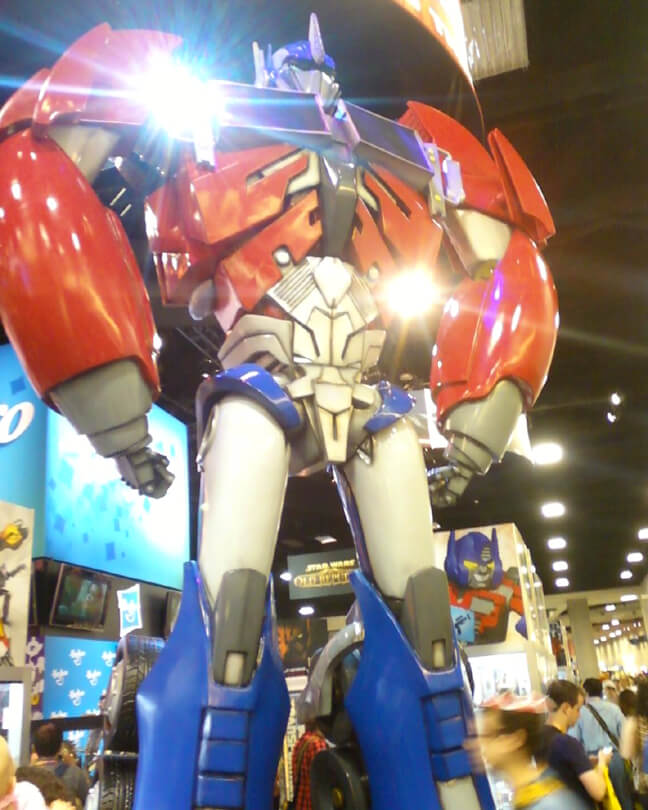 So I called in favors, rushed around like a mad thing and somehow got out of work a little early, hoping I'd have enough time to get to the trolley station, get downtown, find the press pickup place, and get my badge before they closed the doors.
But the Traffic Gods, the Parking Gods, and the Trolley Gods all smiled on me, because before I knew it I found myself just outside the main sales floor with a press pass in hand and almost an hour left of Preview Night. I even got one of those giant souvenir bags. I never get those.
Now if I was a really super prepared person I'd have had my camera with me. Sadly that's not the case. But I had my phone anyway, which technically has a camera (all my iPhone friends snicker at it, but I try to ignore them). So armed with that I dove into the crowd.
Anybody who hasn't seen the main sales floor might think an hour's plenty of time to see everything. Man alive, it so isn't.
Right off the bat I got sucked into the Transformers booth. (They had a giant Transformers Prime diorama-type display. I so want to be one of the people that gets to set up sixty or so Transformers into an epic battle scene.) I hear a giant Bruticus is one of the Comic-Con exclusives this year, but I didn't find it before I got distracted by the display of Jedi costumes next door. Then the crowd of people yelling their heads off drew me over to the Iro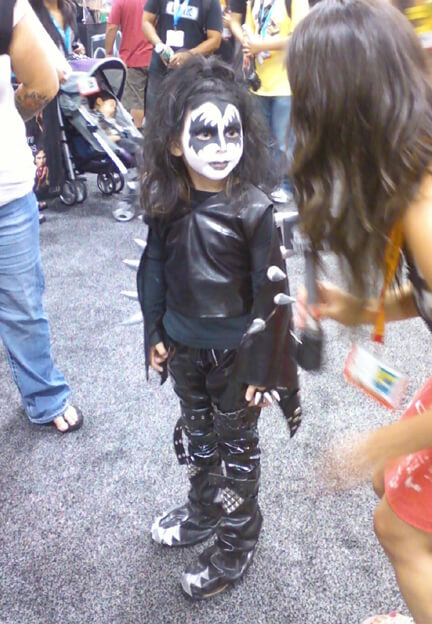 n Man 3 booth where they were handing out what looked like Spider Man foam fingers.
There aren't quite as many costumes out on Preview Night, though I did spot Leeloo from The 5th Element (in her freshly-out-of-the-sarcophagus bandages) and an Eleventh Doctor, both moving too fast for me to get a picture. I did get a shot of a miniature Gene Simmons being interviewed by a news crew, which has got to be in the top 10 most adorable kids' costumes I've seen yet.
I probably didn't even see a fraction of the place before I decided to leave the rest for this weekend, and I went outside to find where this Hilton Bayfront place is. I've been hearing that there'll be a huge WB event there, following the spill-out-into-the-streets trend we've been seeing at Comic-Con the past couple of years. It's not hard to find: face the Convention Center, turn left, and keep walking till you almost hit the water.
Nothing was up except a strange tent-city (I thought it might be a first-aid encampment, but it's huge, and there's rugs and pillows all over the place. I'll have to research what's going on there) and, to my total delight, the Batmobile display. It was after dusk by this point and nothing's lit, but the Tumbler's right there, real as anything, and completely awesome. I'll go back in daylight with a decent camera for sure.
After that everything was winding down so I jumped back on the trolley for home. And got a preview of how crowded it'll be for the rest of the weekend. Lucky for me if I have to be nose to nose with a car full of perfect strangers, at least I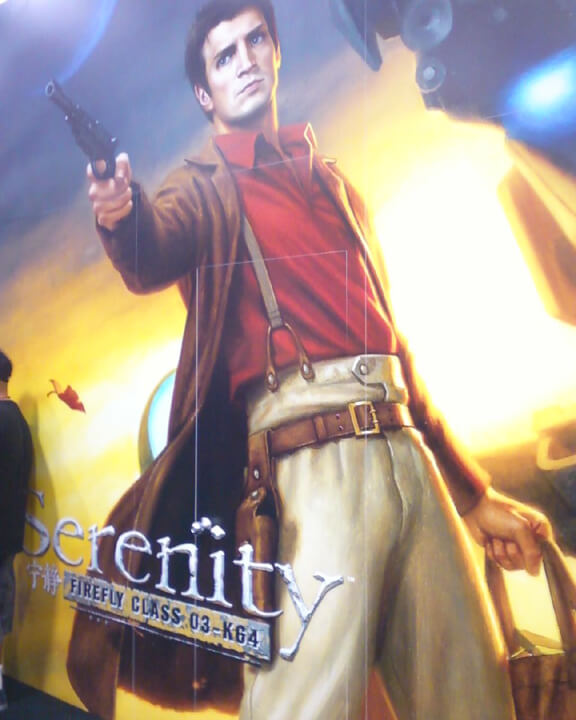 got stuck with a nice bunch.
I chatted with a couple guys about trying to buy Hasbro exclusives (not that I know a fool thing about collectables, but they were enthusiastic and funny, and said they'd either go back tomorrow at 5am in the hopes of getting something, or just wait six months and buy them for a quarter of the price online.) I joined in the golf clap for a guy who threw his soda bottle out the barely-opened doors and sunk it into the trashcan a good 20 feet away. (Oh sure, anybody could've made that shot, but making it from inside the trolley was just fun.)
I also had a friendly bitch-session with a couple guys about the Trolley "Ambassadors"; I actually think the Trolley people are doing a great job for the most part, they're very helpful in getting you to the right trolley at the right time.
But one of them needs to chill the hell out. As we were boarding he was shouting "I need everybody to move back away from the doors, I will call an officer in here to throw you out if you don't want to move." I understand it's a stressful job, but if you're so worn out that you feel the need to threaten people before they've actually done anything? You need to go get a drink of water or something, is all I'm saying. And the guys I was talking to agreed, and then one of them said he didn't want his giant Archer/Wilfred bag, and I could I find it a good home? Just like that, I go from never having gotten one of those giant bags, to two of them.
I find more often than not people are pretty awesome, and honestly at Comic-Con there's way more good than bad.