Surprise! In a quick (although spoiled about a week ago) announcement, we now know that Dark Souls III is on it's way into this world. What did we learn? I invite you to read on, dear reader (and/or masochist).
Releasing in early 2016 for Xbox One, PS4 and PC – this looks to be possibly the last entry in the Dark Souls series of games. With Hidetaka Miyazaki at the helm of this installment – after a hiatus from Dark Souls 2 to direct the lovely Bloodborne – I'm sure it will be a suitable ending.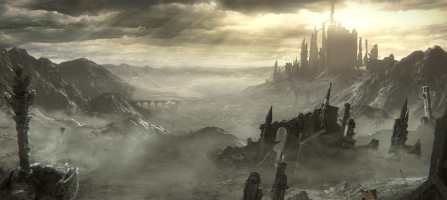 Not much is given away in the trailer below – but I would wager from the appearances of certain buildings (see above image) that we may see some familiar locations along with the unfamiliar. And I hope when gameplay is released – probably around Comic Con or later judging by previous Souls' releases – that we'll see how much From Software and their team have learnt from the experience of creating 3 Souls games along with Bloodborne prior to this installment. My hope is that the combat becomes faster again but the strategy and the punishment for not having patience return. We'll have to wait and see in the coming months – until then, enjoy some Giant Lord action!