Elizabeth and I are going to try something different with this review. Obviously the two of us are huge Neil Gaiman fans, and we both read his Norse Mythology pretty much on the same day that it came out. (It's a very fast read.) Since we couldn't decide who should write up a review, we decided to have a discussion about the book (and the myths, and various things that the book reminded us of) via instant messenger, and then post highlights of the conversation here. Click the jump for the full transcript.

(Warning, spoilers below. For stories that were created over a thousand years ago, but still.)
Kathryn
So, other than the 15 or so pages at the end of Edith Hamilton's Greek Mythology, how much Norse mythology have YOU read?
Elizabeth
The D'Aulaire's book. Unless Sandman and American Gods count?
Kathryn
I'd say they count, especially since the treatment of all the Norse Gods in both of those seem a little closer to the way they actually appear in the original tales than, say, certain Marvel movies.
Elizabeth
Heh. I did like how Gaiman credited the Marvel comics with being his introduction to Norse mythology.
Kathryn
The only other versions I can think of is The Gospel of Loki I read last year, and the summaries we read when we were in elementary school.
I particularly remember those summaries, and the fact that I tended to picture Starscream as Loki for some reason.
Elizabeth
Man, your love of Loki goes way back, putting Tom Hiddleston in the role was just icing on the cake wasn't it?
Kathryn
Right?! I don't know why Starscream seemed so fitting for Loki, unless it was the whole plan-something-horrible-then-beg-for-mercy-when-it-all-went-wrong sort of thing.
Okay, focusing now. What did you think of Neil's latest book?
Elizabeth
Sorry, now I'm picturing Starscream sneering at Chris Hemsworth and it's distractingly awesome.
Kathryn
We really need to have some fan art of Tom Hiddleston as Starscream.
Elizabeth
Sorry, focusing.
Kathryn
FOCUSING.
Elizabeth
Hee.
I liked the book, I'm not sure what I was expecting but it was much more straightforward than his usual deliciously flowery prose.
Kathryn
Very much so. It felt like something that would work for a much younger audience, but at the same time appeal to people who may have grown up reading the original myths.
And he mentioned in the foreward that he wanted people to be able to TELL these stories. And they definitely have a simplified, storytelling feel to them.
Elizabeth
I like how he explained that sometimes things just happen in Norse Mythology and there's not much of an explanation, you just have to roll with it. Like certain gods unexpectedly coming back from the dead.
Thor puts his feet through the bottom of the boat and braces himself on the floor of the ocean, BECAUSE.
Kathryn
Exactly! Kvasir is slaughtered and his blood drained out to be made into mead, and then suddenly he's back?
The heck?
Elizabeth
The way Neil described Kvasir, I kept thinking of Vision from Age of Ultron, and the comparison holds up pretty darn well.
Kathryn
Yes, impossibly wise, doesn't get ticked off easily..
"Oh, you're going to kill me for my blood? Such a shame…"
Elizabeth
He's smart enough to know how these stories end up, he knew he'd be back.
I did like the bits of Neil's personality coming through, like when Thor kicked a dwarf into the funeral pyre.
Kathryn
That seemed rather random, didn't it?
Elizabeth
Seeing him in Hel later later looking grumpy about it was perfect.
Kathryn
Like Neil had read about that part when he was younger and thought "Damn, he was probably a little ticked off about that."
Elizabeth
Exactly!
Kathryn
Neil also played up certain parts of the stories for maximum feels.
Elizabeth
Oh, poor Hod.
Kathryn
Tyr getting his hand bitten off by Fenris for example.
Elizabeth
Ooo yes, that was extremely well done, I never imagined Tyr as a real person, or why he'd do it.
Kathryn
That was a part of mythology that shows how the Norse gods actually CAN be honorable.
Tyr TOLD Fenris that he could bite off his hand if he couldn't get free, and that's why Tyr deliberately didn't pull his hand out of Fenris's mouth.
Elizabeth
That's how it feels in Neil's writing anyway, before, I'd always figured Tyr wasn't quick enough to get away.
Kathryn
So many of the other stories it seemed like the gods could be honorable…unless they didn't really want to be.
Building that wall, for example.
Elizabeth
Man, seriously.
Kathryn
They literally got into the whole thing with the PLAN that they'd never actually have to pay.
Elizabeth
Nice to get the explanation for exactly how Loki's the mother of an eight-legged horse.
Kathryn
I SO want a reference to that in the Marvel movies, but I know it'll never happen.
Elizabeth
Just one quick aside, that's all I'd need.
It'd happen if Whedon wrote it.
Heck, I wouldn't even need an aside, a knowing look from Tom would do fine.
Kathryn
Hell yes, that's all I need.
Elizabeth
Focusing!
Kathryn
Sorry, FOCUSING AGAIN.
That mead story, tho.
Elizabeth
Lordy, the ENDING to the mead story.
Kathryn
Odin's quite the bastard sometimes.
The gods could be sore losers and TERRIBLE winners.
They were always taunting the people they scammed.
Elizabeth
I think Neil purposely made us feel bad for the giantess. Odin crossed the line.
Kathryn
Yes, that's a story I want to hear more about.
She basically failed her father because someone fed her a bunch of nice lines.
At the very least she needs to get the poem Odin promised her.
Elizabeth
Some fan art would be nice.
Kathryn
Neil fleshed out the stories so nicely, that now I want to see MORE of them.
Elizabeth
And did you get chills when Odin goes to consult at the grave of a "wise woman" and it turned out to be Loki's other wife?
Kathryn
Yeah, that was out of nowhere.
Was that part of the original myths, do you think?
Elizabeth
Good question, Neil knows how to tell a story though, I could totally see the reveal if it was filmed, she's all ghost-like and hazy until we realize who she actually is.
Hey, speaking of out of nowhere, what's up with Norse Mythology and the number 9?
Hung from the world tree for 9 nights.
The bracelet makes more bracelets every 9 days.
Kathryn
9 realms.
Elizabeth
The trip to find Baldur in Hel took 9 days.
Kathryn
Didn't the giantess they get the cauldron from have nine-hundred heads?
Elizabeth
(one sec lemmie check)
Yep, you got it, nine hundred.
But then the magic bracelet that worked once every nine days would drop….eight bracelets.
I'm like "Be consistent, Vikings."
Kathryn
Heh.
Nine has a lot of significance in Norse mythology then.
Elizabeth
Randomly, Baugi, the guy Odin wanted to help him get the mead, had nine slaves that Odin tricked into slaughtering each other.
Odin. Pfh. Jerk.
Kathryn
REALLY.
Once again, the gods were honorable unless they were being tricky.
Elizabeth
Totally truthful unless they were lying
Kathryn
Loving husbands, unless they were sleeping around.
Het hem, Odin.
Still not happy about that poor giantess.
Gunnlod, that was her name,
Elizabeth
I get the idea that the story about her bugged Neil as much as the story about Susan in The Lion, the Witch, and the Wardrobe, and he had to address it.
Kathryn
Funny how Neil played up her story to the point where we have sympathy, and then dropped her without another word.
Elizabeth
He was trying to be accurate as well as interesting, I'm guessing the myths aren't known past that.
Kathryn
Huh. Wikipedia says Odin bargained three nights of sex for three sips of mead.
Elizabeth
So he's a whore then, too.
Kathryn
RIGHT.
Elizabeth
I think Neil did a good job with the difference between Odin and Loki. Both of them are jerks, but Loki's downright evil, and much more dangerous.
He brought out a lot of the insane envy Loki felt towards everybody and anybody.
Towards the end where he was drinking himself into a rage and insulting everyone who moved, if he wasn't stabbing them to death and smirking about it later, yow.
Kathryn
And Neil focused in on the fact that Loki was always so impressed with his OWN cleverness. Odin was a lot more humble about being smart.
Elizabeth
Odin was mean, but Loki was unhinged.
Kathryn
I mean, for crying out loud, Loki invents the net that catches him because he's trying to out-clever himself.
Which comes right back around to Neil's portrayal of Loki in Sandman.
Clever. And vicious.
Elizabeth
Heh, loved the scene with Kvasir and Thor and the net. Neil is not convinced that Thor's particularly smart.
Kathryn
Also going back to his portrayal in Sandman.
Big, strong as an ox, and exactly as bright.
Elizabeth
Man, and Sigyn, she's broken my heart every since Neil wrote about her in Sandman too.
Kathryn
She doesn't suffer quite as much in this book, but yeah, she has it rough.
The gods weren't being at their best when they killed Loki's son either.
Elizabeth
They were done kidding around at that point.
I wonder, in the description of Ragnarok it says Loki was freed from his bonds. Wonder what happened to Sigyn.
Kathryn
Weird. According to Google, Sigyn is Norse for "victorious girlfriend"
Elizabeth
Wow. Not particularly.
Kathryn
Nope.
Elizabeth
Random tangent, when they described finding the chess pieces in the ground, what do you suppose I thought of?
Kathryn
Prince Caspian!
Elizabeth
YES!
Kathryn
Ten to one that's what Neil was thinking of too.
Elizabeth
Did you ever see the movie for that one?
Kathryn
Nope, you?
Elizabeth
Nope. Wonder how well they did that scene, it's one of my favorites in the book.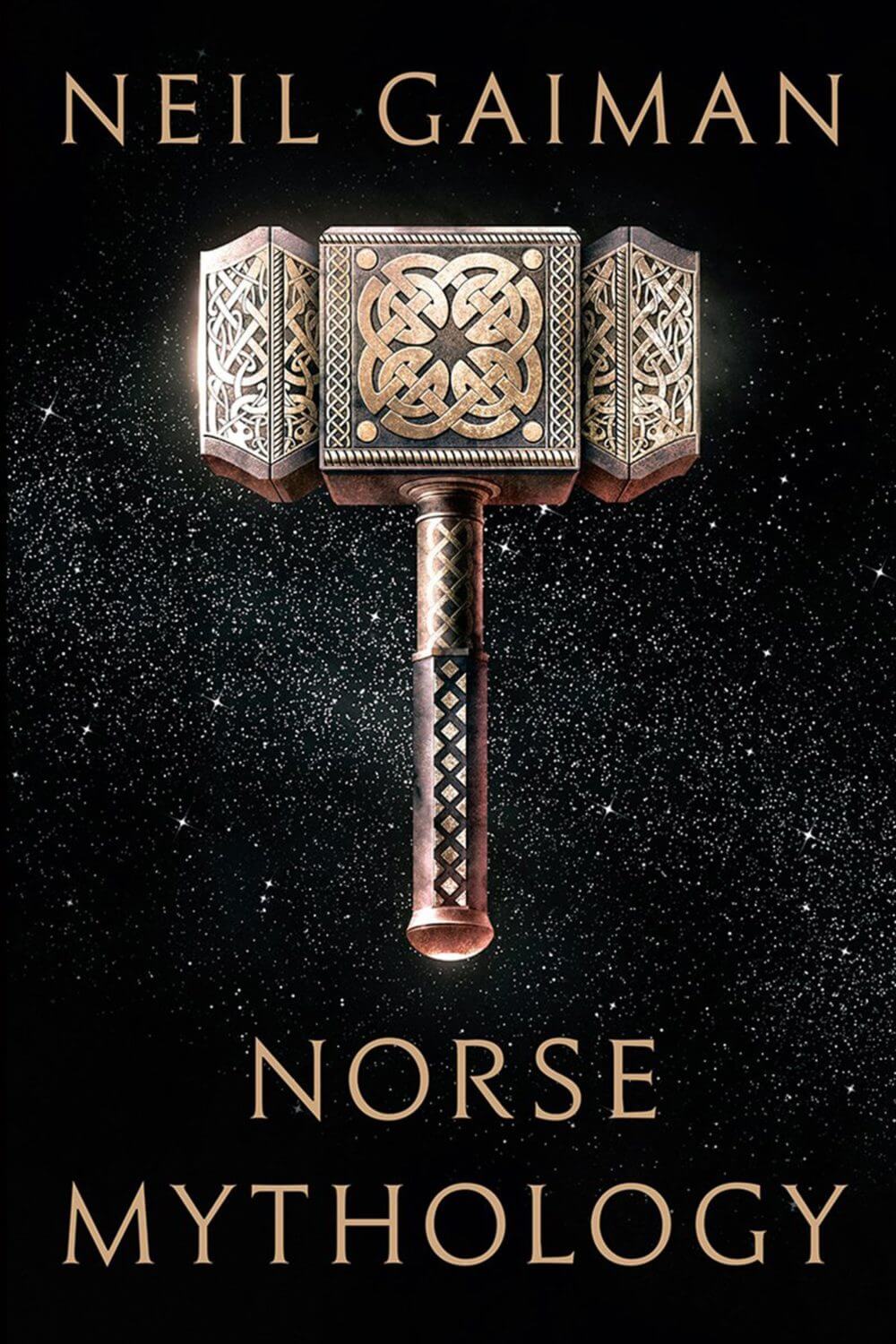 Kathryn
I should watch that at some point, and the Dawn Treader. I lost interest when they decided the rest of the books weren't happening.
Elizabeth
I kinda lost interest after the first movie. Sort of a delayed reaction disappointment there.
They should do them over and have Neil write the screenplay.
Kathryn
Yes! And maybe he can come up with a better ending for Susan.
Elizabeth
He'd find a way to imply something.
Honestly, I don't know if it's because of all the Sandman stories or American Gods or what, but Norse mythology seems tailor-made for Neil. It's just as weird as Greek mythology but way darker.
Not that Greek mythology can't get dark.
Kathryn
Maybe he can do a companion piece to this book, only about Greek mythology.
I like getting to see what he thinks is going on in the characters' heads.
Elizabeth
I like how he basically portrays most of the gods as big dumb frat boys. I mean, Baldur died because they couldn't quit screwing around!
I know that's part of the original myth, but Neil portrayed it just right.
Kathryn
He made it look like fun, especially things like a huge boulder going "Poof!" into sand when someone dropped it on his head.
Elizabeth
Thor taking a swing at him and having to do a little trip-dance when he whiffed it.
Kathryn
He also gave the goddesses a moment or two to shine. Like Freya reacting to Thor's suggestion that she marry the person who stole his hammer. Thor's all "Oh sure, this will be a great way to solve all this, no problem for anyone, why is the ground shaking?"
Elizabeth
Exactly!
They generally had a lot more common sense than everyone else.
Plus Freya's chariot is drawn by cats!
Kathryn
How can you NOT love that?
Elizabeth
Convincing Thor to wear a dress is exactly the type of story Neil would leap at.
"Wait, I …hang on I don't WANT to wear a dress.."
Kathryn
And Loki having to come up with explanations on VERY short notice.
Elizabeth
"Her ankles are like tree trunks."
"Trick of the light!"
Kathryn
Love that quote: "There is," said Loki, "an obvious explanation." …he wondered what the obvious explanation was.
Elizabeth
THAT'S a bit of Gaiman phrasing right there.
Kathryn
The book wraps up with JUST the right tone, too.
Elizabeth
Very, I don't think I've ever heard that Norse mythology could have any hope.
Kathryn
Telling what happened. Or what WILL happen, depending on whether you think Ragnarok has already happened or not.
Elizabeth
I like how he admitted that's a thing we don't know, it'd always confused me when reading about it.
Kathryn
It's a very grim pantheon with a surprising amount of humor. Must have been helpful on those long winter days when you didn't see the sun for a few months.
Elizabeth
Seriously. Life is short, drink some mead and tell some stories.
Kathryn
Can't think of a better way to wrap up this review, can you?
Elizabeth
Nope, I'm all good