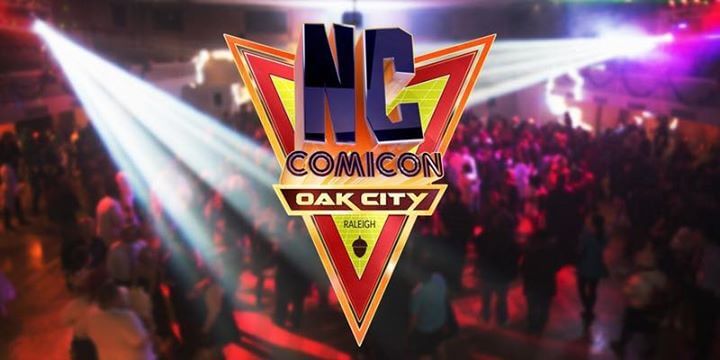 NC Comicon starts March 18th! It wouldn't be a convention without a selection of famous guests to talk to/request autographs from/stare at adoringly from across the room. Click the jump for a rundown of all the guests currently scheduled to attend NC Comicon: Oak City!
Larry Hama: Writer G.I Joe, Wolverine, Batman, Bucky O'Hare
Darryl "DMC" McDaniels: Musician/Author Run-DMC
Tommy Lee Edwards: Artist Mother Panic, Turf, Superman:American Alien
Shelly Bond: Editor Sandman, Femme Magnifique
Tony Fleecs: Writer/Artist Jeff Steinberg:Champion of Earth, In My Lifetime, My Little Pony
John Barber: Writer The Transformers, Wolverine, Dark of the Moon
Afua Richardson: Artist Blade The Hunter, Genius, All-Star Batman
Jeremy Whitley: Writer The Unstoppable Wasp, Princeless, My Little Pony:Friendsihp Is Magic
John Paul Leon: Artist The Winter Men, Earth X, Detective Comics, Mother Panic
Mike Perkins: Artist Iron Fist, Carnage, Captain America
Shawn Crystal: Artist Mother Panic, Arkham Manor, Scarlet Witch
Dave Dwonch: Writer Infinite Seven, Double Jumpers, Cyrus Perkins and the Haunted Taxi Cab
Ted Adams: CEO and Publisher IDW
Neal Adams: Artist Batman, Green Lantern, X-Men, Superman Vs. Muhammad Ali
David Hedgecock: Editor-In-Chief IDW Publishing
Chris Ryall: Chief Creative Officer IDW Publishing/Writer Zombies Vs. Robots, Dirk Gently
Hoyt Silva: Artist Adventures in Crime, Drink Champs, Operation Nemesis
Kahlil Schweitzer: Marketing Manager IDW Publishing/Writer Godzilla:Rage Across Time
Kelly Yates: Artist Doctor Who, The Forgotten, Ground Control, Autopia
Joe Pruett: Publisher/Co-Founder Aftershock Comics/Writer Wolverine, Cable, Negative Burn
Jon Sommariva: Artist Star Wars, Noble Causes, Teenage Mutant Ninja Turtle Adventures
Sam Ellis: Artist/Animator Archer, Frisky Dingo
Daniel Way: Writer Gun Theory, Hit Girl, Deadpool
Steve Niles: Writer 30 Days of Night, Criminal Macabre, Batman:Gotham County Line, Simon Dark
Chad Bowers: Writer X-Men '92, Down Set Fight!
Brenda Hickey: Artist My Little Pony, Ward's Valley, Tatian In Halls of the Turnip King
Chris Sims: Writer X-Men '92, Down Set Fight!
Chris Giarrusso: Writer/Artist G-Man, Mini Marvels
Matt Manning: Writer Batman/TMNT Adventures
Bryan Seaton: Writer Miraculous Ladybug & Cat Noir, Dollface
Bill McKay: Artist Infinite Seven, Amerikarate
Corey Kalman: Writer Amerikarate
Danny Milley: Artist/Designer
Tom Fleming: Artist/Costume Designer
Ron Fazio: Actor Toxic Avenger Parts II & III, Basket Case 2
And if inanimate stars are more your speed, NC Comicon will also feature the Impala from Supernatural, Ecto-1 from Ghostbusters, and the DeLorean from Back To The Future.
Any changes to the guest list will be posted on the NC Comicon website here.