May has finally arrived and with the temperature slowly starting to heat up around the country it's time for the annual onslaught of the big budget box-office summer movies to begin. And starting us off as usual is Marvel Studios. This year is the return of our favorite space trekking heroes in Guardians of the Galaxy Vol. 2. It's going to be another box-office-breaking smash-hit for Marvel/Disney as they deliver once again a great, fun, action-packed comic book movie.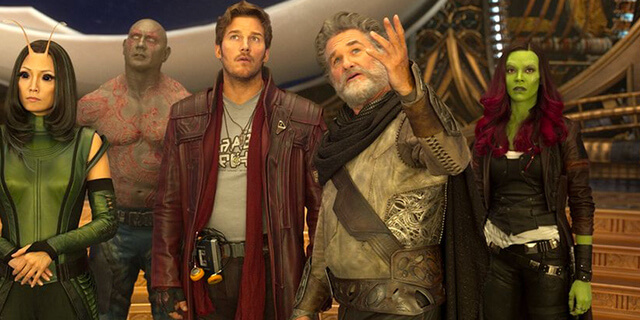 Guardians 2 picks up with our unlikely heroes in the midst of a job that demands they battle a toothy space squid. But when Rocket Raccoon (Bradley Cooper) can't keep his thieving ways in check, he enrages the pompous employer, a high priestess of The Sovereign, played by Elizabeth Debicki. The Guardians are chased to the ends of the universe to escape her wrath. But along the way, the Guardians cross paths with Ego (Kurt Russell), a mysterious figure who has his own planet and who claims to be Peter "Star-Lord" Quill's (Chris Pratt) long-lost father. Also coming along for the ride is the arrow-whistling Yondu (Michael Rooker) and his volatile crew of space-pirate Ravagers, as well as Gamora's (Zoe Saldana) vengeful sister Nebula (Karen Gillan), and newcomer, Ego's empath, Mantis (Pom Klementieff).
The movie has a nice flow to it, keeping everything moving along with humor and action. Each scene fits together like a perfect puzzle leading us to a great conclusion. Like most movies with numerous characters each ends up getting their own arc and story plot: The Peter/Ego story, Gamora/Nebula and Yondu/Rocket. Of course all end up intersecting to become one major story. Splitting off characters from one another adds to the drama and character development. It's great to see that even with Peter being the main protagonist, each Guardian still gets their own plot that continues to thread them deeper into the Marvel Universe, making them that much more real for fans.
No need to go on and on about how good all the returning actors are. We know they're good and by movie two they know who these characters are inside and out. But with a sequel as big as this there's always room for improvement with the addition of layers. And that's what we get to see here, especially with Gamora, Nebula and Yondu. Their plots are the ones that stick out as the some of the best in the movie. Peter's storyline is good too, but his story does quickly fall into something we've seen before in other sci-fi flicks. So the "twist" is seen coming a mile away. It's not a bad "twist", but it's a been-there-done-that situation.
Newcomers to the Guardians world are fantastic and fall into place perfectly like they have been there the whole time. Pom Klementieff is wonderful as Mantis, Ego's pet empath: she looks great and the special effects on her moving/glowing antenna are flawless. With each emotional connection she makes they tend to do different things with her mood. An added bonus is the character of Kraglin played by Sean Gunn. Only having a small part in the first movie, here we see him become a somewhat of a Guardian and come into his own. He's funny and has the potential to be a badass in future films.
Then there's the main man himself: Kurt Russell as Ego The Living Planet. Russell knows exactly what kind of movie he's in and he is having the time of his life. His enjoyment reads on film. He is a fresh of breath air into the Marvel Universe and hopefully his plot will have ramifications across the Marvel Universe in future stories. Fans of the character in the comics will enjoy the nods they do in the movie to reflect that Ego in comics vs. Ego in the movie. A big plus was seeing the planet with a face.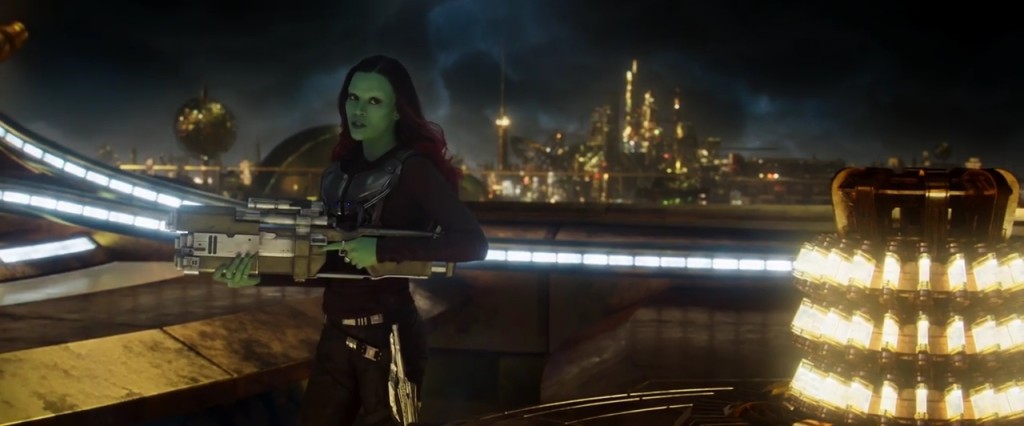 As it is with most successful sequels they need to be bigger. And this is no exception. This movie is huge on a grand scale, with massive set pieces and special effects. Each set is bigger than the last, if there even is a "real" set in general. The green screen sets are fantastic and look great. Each environment the guardians travel to are beautiful. The production artist should be super proud of the worlds they created. They look flawless and real enough you want to reach out to the screen and touch them.
Overall this is a great movie. Yes, it has some minor flaws, but nothing that hurts the movie in any way. Just one more great film in the Marvel pantheon. And as we are all now trained to do, at the end of the movie stay seated for five end credits scenes. Yes, five! So run, don't walk and go see Guardians today!