It's been 22 years since Robin Williams found the Jumanji board game and gave us an epic jungle adventure. So the question you have to ask yourself is….are you ready to go back into the jungle? This time with The Rock? Well Jumanji: Welcome to the Jungle answers that question for you, staring Dwayne Johnson, Jack Black Kevin Hart, Karen Gillan and Nick Jonas, and directed by Jake Kasdan. Was this sequel needed 22 years later? Not at all. But what could have been pretty terrible, ended up being a fun, entertaining, comedic adventure that the whole family can enjoy.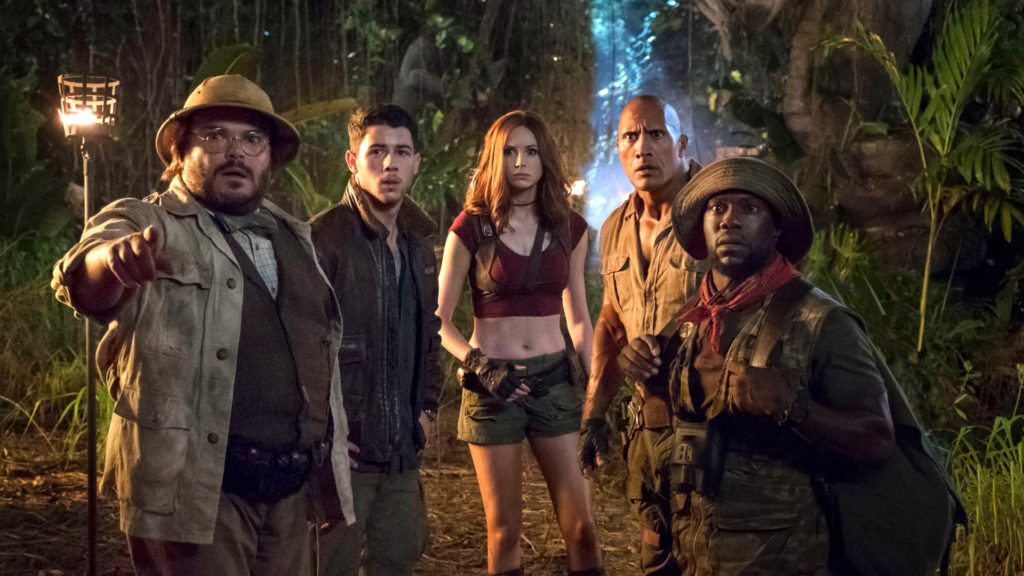 The plot follows four stereotypical teenagers all in their proper movie archetypes: the jock, nerd, popular girl and the ugly-pretty girl. Due to plot they all end up having to do detention. While there they find the Jumanji game in an old video game system. The game evolves into whatever it needs to be to be played, and the game must be played. As the kids choose their characters to play within the game, they are suddenly transported into the game itself, stuck as their characters' avatars, each with certain abilities that will be used to pass levels. Together they must return the "Jaguar's Eye" to its rightful place, thus defeating the game in order to return home.
It's fun. It has lots of entertaining action, and is very funny and full of great special effects. The film has a nice mix of adventure movie and video game tropes that make for some fun scenes. It's full of meta humor for the video game generation of today. Each character has their own flaw they must overcome to defeat the game, which gives way to some great scenes where are adult actors act like teenagers trying to understand adult situations. Watching The Rock do this is a pure joy, as one of his super abilities is "smolder," which happens at will with no control by the character. Pure gold.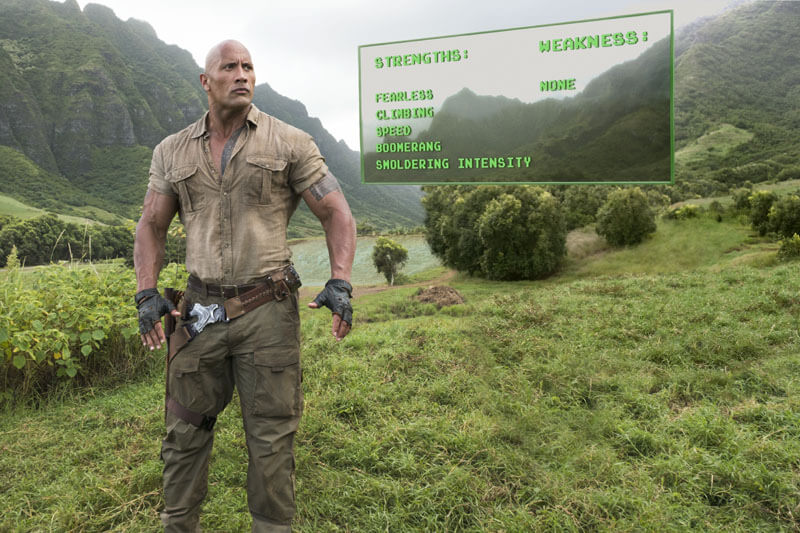 Dwayne Johnson, Kevin Hart, Karen Gillan and Joe Jonas are all amazing as their game avatars, each being the heroes they know they can be. Johnson and Gillan have some very charming scenes together, each bringing their own special humor to their roles, both playing up the "badass" action status films have given them. Kevin Hart is Kevin Hart. He's doing what he does in movies: be funny and yell. He's good at it so why change it here. He and Johnson have a funny chemistry that seems to work together. Jonas also brings his own style into the movie. He's a third-act character, but he is used well and important to the overall movie.
But the stand out and show stealer of the movie is Jack Black as Bethany's avatar. Bethany is played by Madison Iseman, playing her as the popular-vapid-self-absorbed-hot-girl. She choses her avatar character for the game very quickly and didn't know what she was doing. So when she enters the game and becomes Jack Black she is less than thrilled. Each avatar is still the kid within: personality, body language and all. So Black gets to act like a teenage girl for the whole movie. It is funny. He manages to capture movements, eye language, and the overall general idea of a stereotypical high school girl. Some of the best scenes are Black lusting after Nick Jonas; talking about being pretty and teaching Gillan's character how to flirt. I'm not a Jack Black fan at all, but here he was very fun. He's clearly having a great time doing this.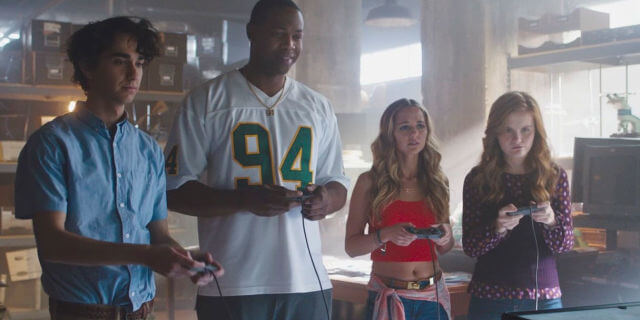 The villain played by Bobby Cannavale is barely in the movie. He is about as two-dimensional as it gets, being the evil twisting mustache villain. But Cannavale makes it his own and is clearly having fun. He has some decent scenes with his henchmen, using his power of controlling all the animals in Jumanji with thought.
The movie moves very fast as they have a lot ground to cover to get the ball rolling: get the characters into the game, set up that this is in fact a sequel to the 1995 hit, and give everyone their moment to shine on screen. When they find the Jonas brother in the jungle he has been living in the tree house that Alan Parrish had built many years ago. (Parrish being the character Robin Williams played in the original.) Was a nice nod to the cannon of the films and to Robin.
Overall the movie is entertaining and very funny. Will it go down in the realm of film as one of he greatest movies ever? No. But it is a great two-hour flick that the whole family can enjoy. And that's never a bad thing.