At the end of the year we always find ourselves at a loss: what were the best comics we read this year? Well good thing I'm here to give you some great suggestions to check out. These are the top comics that made me stop and think, "Damn. That was good." These are worth looking at, jumping in on, or seeking out their trade to fill whatever geek need you may have.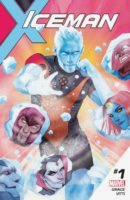 Iceman
Wonderfully written by Sina Grace. This out and proud gay writer takes Bobby Drake on his new personal journey: coming to terms with his sexuality, dealing with his parents, dating and moving to the West Coast. This is one of the most beautiful X-Men books out right now, giving all the respect Iceman deserves and the representation that is needed in comics today. Sadly this book has just been cancelled. Lack of sales one can assume, but it's worth reading and collecting the trades. This is a very important book voicing many real issues in the gay community. This is a ten out of ten book.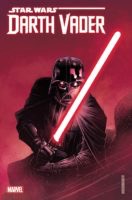 Darth Vader Vol. 2
When writer Kieron Gillen and artist Salvador Larroca ended their run on Darth Vader (#1-25) many thought it was over. There wouldn't be another Vader book that good. Well people were wrong: enter Charles Soule. Where Gillen focused his Vader's story between Episodes 4 and 5, here we see Vader at the beginning of his Sith career, beginning moments after his universally hated "Noooo". We see how Vader got his lightsaber and what other evil deeds the Emperor has tasked him to do. Drawn masterfully by artist Giuseppe Camuncoli, if you want see Darth Vader being as badass as he was in Rogue One then check this book out!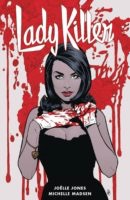 Lady Killer Vol. 2 #1-5
1960s housewife by day, world's best assassin by night! We follow the continuing adventures of Josie Schuller: Her family has moved to Cocoa Beach where she is still juggling being a wife, a mother and a great assassin working for herself. Written and drawn by the amazingly talent Joelle Jones, if you like dark humor and all things macabre this is highly recommended.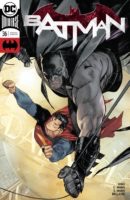 Batman #25-37
Written by Tom King with great artists including Mikel Janin (#25-32), Joelle Jones (#33-35) and Clay Mann (#36-37): three amazing stories spanning this past year. First is the "The War of Jokes and Riddles", The untold story of Batman dealing with the Joker and Riddler at the beginning of all their careers. Then we get an amazing three-part story "Dream of Me" where Batman and Catwoman seek out Talia al Ghul. Ending with "Superfriends", where we see Lois Lane, Superman, Batman and Catwoman go on a double date. Each has its own unique greatness showcasing the world's greatest detective in his hero and private life.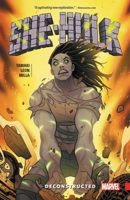 She-Hulk
After surviving a massive injury during the latest Civil War She-Hulk is dealing with some massive PTSD. Trying to start her new life as a full time lawyer for super humans, dealing with her own insecurities, juggling time with BFF Hellcat and just learning what it is to be She-Hulk and live out from under her cousins' shadow. Written by Mariko Tamaki and illustrated by Nico Leon, this is one gorgeous book to check out.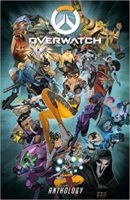 Overwatch: Anthology Volume 1
Based on the video game of the same name, Blizzard Entertainment has collected many great writers and artist to tell the unknown stories based on some of the great characters of the game. It was an online comic originally, but here all the stories are collected in one trade. If you're a super fan of the game then this is a must have.
Superman #26-27
Clearly writers Patrick Gleason and Peter Tomasi have something they needed to get off their chest about the current state of the USA. So they took Superman and his family on a vacation to some the most historic landmarks of America. Along the way Clark and Lois get a chance to teach young Jon Kent about history, American culture, and what it means to be American in the face of of so much negativity. What could have been fluff ended up being very educational and full of heart as we hear Superman tell us why he thinks America is great. The wonderful art by Scott Godlewski just adds to this great two-parter.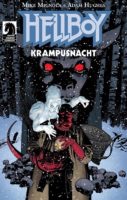 Hellboy: Krampusnacht
A very simple standalone issue: In the dead of winter the story unfolds on a cold winter night in 1970's Austria, as a mournful ghost leads Hellboy into a confrontation with the dreaded Krampus. Written by Hellboy creator Mike Mignola and drawn by master Adam Hughes, this is one of the most beautiful Hellboys stories ever drawn. It gives us all the Hellboy joy and some awesome holiday horror chills.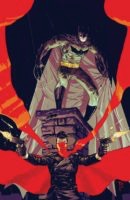 Batman/The Shadow: The Murder Geniuses
Scott Snyder and Steve Orlando write this 6-issue mini-series with art by Riley Rossmo: While investigating the murder of a Gothamite, Batman gets tangled up with the pulp vigilante pulp hero, The Shadow. Both are after the same murder, which leads them both on a crazy adventure. Fans of both characters should be pleased with the care and research that was put into making this a book that's worthy of both these dark heroes.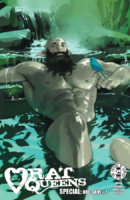 Rat Queens Special: Orc Dave
Before the Four Daves, Orc Dave enjoyed a simple secluded life with his father in the mystical Green Wilds. This one-shot is more or less the origin of Orc Dave and how he came to be. It's by far one of the most beautiful stories of 2017. Written by Kurtis J. Wiebe with art by Max Dunbar and Tamra Bonvillain. If you're a fan of Rat Queens or playing a Druid in D&D this is a perfect story: full of heart and humor. What makes the Rat Queen's world so great is stories like this.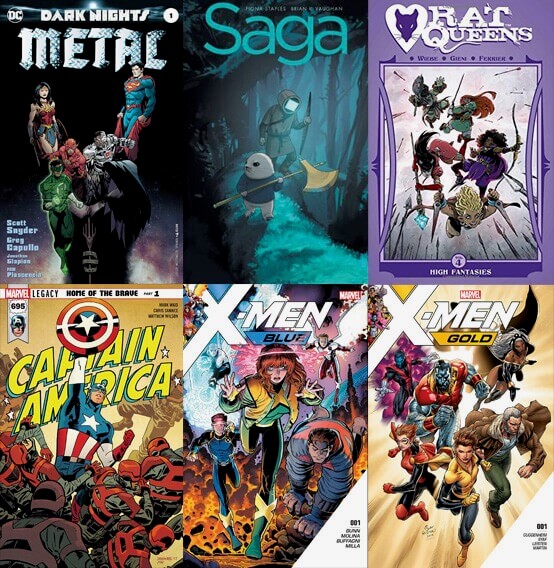 Honorable mentions:
-Dark Nights: Metal
-X-Men: Blue and Gold
-Saga
-Rat Queens
-Captain America