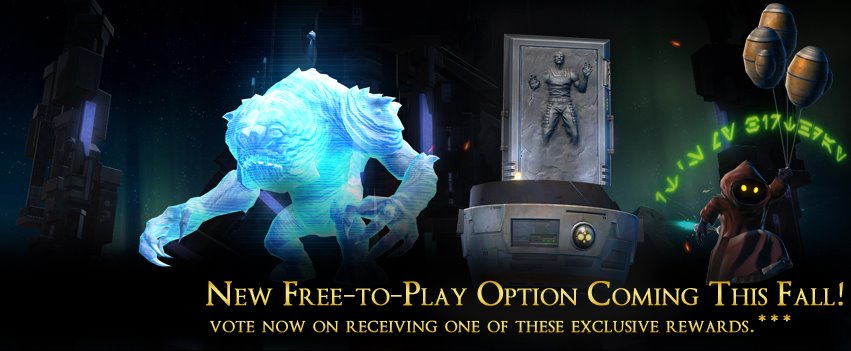 Eight months after its December 2011 release, Bioware announced today that Star Wars: The Old Republic will be going free-to-play in the fall.
The Old Republic joins a growing trend in the MMO genre by moving to free-to-play. Alongside this announcement was a promise of more frequent game updates, including group content, a new Legendary HK-51 companion, and dynamic in-game events. Some of these include new space missions for level 50+ players, a new Operation on the planet of Asation, a new heroic mission series on the prison planet Belsavis, and a new Warzone for player-vs-player combat "which introduces brand-new mechanics."
As with most free-to-play MMOs, The Old Republic will be available up to level 50, with free players' access to many gameplay features limited by default. The biggest gap will be Operations, which will not be available to free players.
Like most free-to-play transitions, The Old Republic will offer a subscription option and reward past or present subscribers with existing accounts through a series of rewards and a monthly stipend of "Cartel Coins", credit used to purchase content and rewards through an online marketplace which will be available this Fall. Current and former subscribers will also be receiving "Cartel Coins" for past months of subscription, and all subscribers prior to August 1st 2012 will also receive one item reward selected by popular vote on Facebook.
For more information, see the Official Page about the free-to-play release, or the Free-to-Play FAQ.